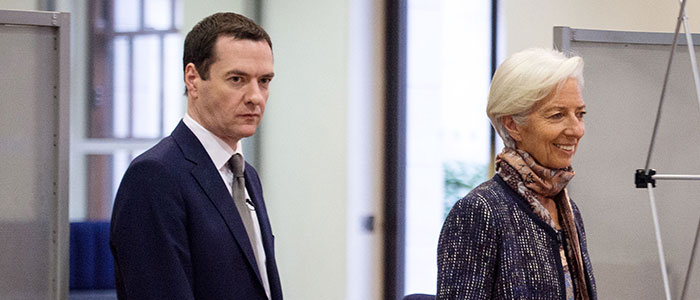 Presenting the IMF's annual review into the country's economy at the Treasury, IMF managing director Christine Lagarde explained that commitment and consistency in applying a "good set of policies" has yielded positive results. However, she highlighted that the public sector deficit, forecast to be £73.5bn in 2015/16, remained a risk. In addition, the UK economy also faced low productivity, "very high" current account deficits and a crisis in housing supply.
Osborne said that the IMF's conclusion "could hardly be more positive" and endorses his plan "to fix the roof while the sun is shining".
Overall, Lagarde noted the UK is currently enjoying one of the best growth rates among the world's advanced economies, historically high employment, low unemployment and enhanced resilience of the financial sector. The Office for Budget Responsibility has forecast economic growth of 2.4% this year, 2.4% in 2016 and 2.5% in 2017.
The IMF announced a strong medium-term outlook for the country, with growth projected to be around 2.25% for the next two years, continued low unemployment, solid growth in household earnings and inflation that will gradually rise towards the 2% target.
Among the risks, low productivity represented the greatest threat in the long term, with housing shortages the biggest factor in the short term.
Lagarde said the UK's deficit reduction targets were transparent, appropriate and flexible, and that flexibility should be used if growth does not hold up as expected. Continuing to deal with the deficit would require continued action on several fronts.
Once cause for concern was that house prices are still growing "faster and higher" than income growth and there are high levels of household debt, leaving small households vulnerable to shocks.
Among the recommendations in the annual Article IV review was a call for the government to rethink its flagship Help to Buy programme, which could further increase demand. It also recommended moving to a system where taxes on housing are based on property value, rather than those based on transactions such as the higher stamp duty rate on second homes.
To deal with the productivity problem, the IMF called for further investment in skills and efforts to increase employment amongst groups like single mothers.
In addition, the IMF said greater spending on infrastructure and more decentralisation would be needed to remove transport bottlenecks that currently hold back regional development initiatives such as the Northern Powerhouse.
Osborne said the government was already working to address many if these areas, with apprenticeships and increased access to universities forming part of moves to improve the skills of the workforce, while the housing budget was being doubled to increase supply. This month's Spending Review has also set out a plan to reduce the deficit year on year, he added.