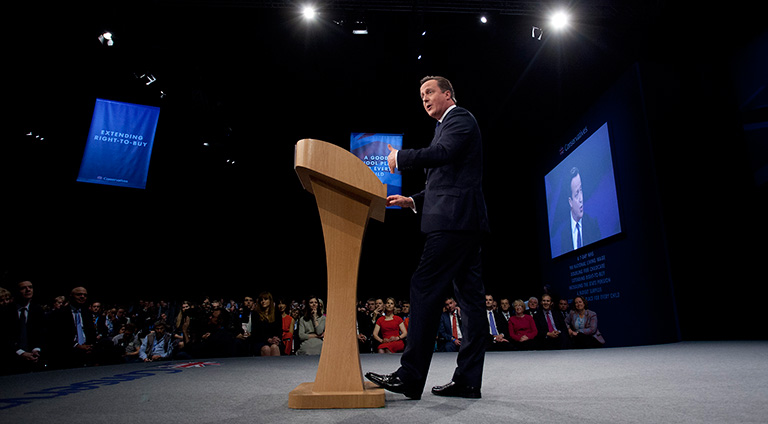 In his conference speech today, Cameron set out "a home owning revolution" to ensure young people are able to buy their own homes.
He said that the starter home programme, where new-built properties are offered at 20% discounts to first time buyers aged 40 or under, would be now be classed as affordable housing. The government has a target to build around 200,000 starter homes.
Under current planning rules, low-cost market housing for purchase cannot be considered in these targets, but Cameron told delegates that unrealistic types of affordable housing hindered construction.
New rules will also ensure that councils cannot hold out for one type of affordable housing over another, in order to give greater flexibility to developers to bring forward sites.
The Department for Communities and Local Government will urge councils to be flexible on the type of affordable housing on any specific site, to make sites viable and get homes built.

Cameron told delegates today that, when a generation of people in their 20s and 30s are waking up each morning in their childhood bedrooms, this should be a wakeup call to the country.

There needs to be "a national crusade" to get homes built.

"For years, politicians have been talking about building what they call 'affordable homes' – but the phrase was deceptive. It basically meant homes that were only available to rent. What people want are homes they can actually own. 

"So today, I can announce a dramatic shift in housing policy in our country. Those old rules which said to developers: you can build on this site, but only if you build affordable homes for rent. We're replacing them with a new rule. You can build here, and those affordable homes can be available to buy … from Generation Rent to Generation Buy." He also confirmed that a deal had been reached by Local Government Secretary Greg Clark to extend Right to Buy to housing association tenants.
Cameron told the conference that the UK was in a "turnaround decade", when the tide had turned and people feel the current is working with them.

"Because we know this: nothing is written. We've proved it in schools across our country that the poorest children don't have to get the worst results – they can get the best.
"Over the next five years we will show that the deep problems in our society – they are not inevitable."
Cameron said that he wanted to make every school an academy so that local authorities running schools became "a thing of the past".
Head teachers were growing in confidence as they throw off the shackles of local council control, which was raising the aspirations of children, parents and communities, the prime minister claimed.
"This movement is sweeping across our country," Cameron told delegates. "So my next ambition is this: 500 new free schools, every school an academy, and yes – local authorities running schools a thing of the past."
He also reiterated plans to intervene in under-performing local government social work departments if they fail to improve.
"Just as we said to failing schools, 'do a better job with our children or we will send new leaders in', so we will say to poorly performing social services, 'improve or be taken over'", he added.
In a statement released in response to the prime minister's housing announcement, the housing charity Shelter said its analysis had suggested starter homes would be unaffordable for families on average wages in 58% of the country in 2020.