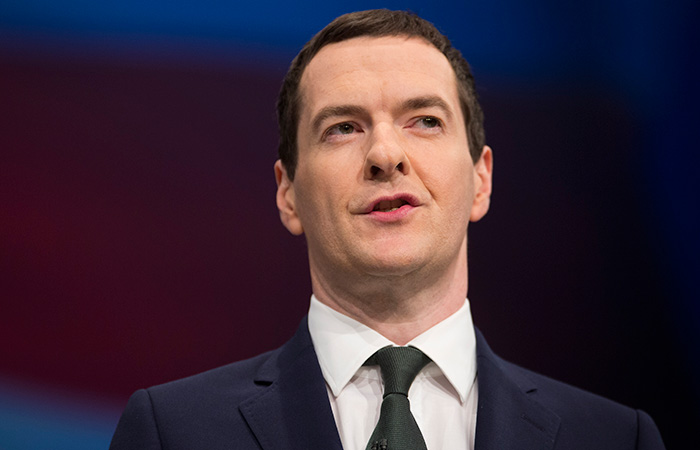 The chancellor set out the landmark changes in a speech to the Conservative party conference in Manchester today, saying it was time to face up to the fact that "the way this country is run is broken".
Under the proposals, authorities will be able to keep all the business rates that they collect from local businesses, meaning that power over £26bn of revenue from business rates will be devolved, he said
The uniform national business rate will be abolished, although only to allow all authorities the power to cut rates. Cities that choose to move to systems of combined authorities with directly elected city-wide mayors will be able to increase rates for specific infrastructure projects, up to a cap, likely to be set at 2p on the rate.
Grant from Whitehall will be phased out by 2020, Osborne announced, although the current system of top up and tariffs, which operates under the current local retention of half of rate growth, would be extended to protect authorities with lower levels of business rate income. The current "safety net", which protects local area against big drops in revenue, will also remain in place, but the current levy on disproportionate gains will end.
The reform would boost local initiative across the country, the chancellor told delegates.
"Since 2013, local government has been enabled to retain 50% of the proceeds of rates, because ministers believe it is right that when local areas take bold steps to boost business growth in their area, they should see the benefit."
Since 2013, the fastest growth in revenues as a share of spending is in the East Midlands, and second fastest was in Yorkshire, he highlighted. As the government collects more in business rates than it provides to local government in grant, it was time for councils to take on more responsibilities.
"The latest reforms go much further, moving to 100% retention of the full stock of business rates by 2020. It will mean that all income from local taxes will go on funding local services. Full devolution of business rates will give local government control over an extra £13bn by 2020."
Responding to the announcement, CIPFA chief executive Rob Whiteman said that "on the face of it this is really positive news".
He added: "CIPFA welcomes the Chancellor's announcement that councils will be able to retain all £26bn of business rates. However, as to how this will work in practice, the devil will be in the detail.
"The Institute has long championed devolving business rates to allow greater certainty for future financial planning, as well as increasing self-determination to drive business growth locally.
"Today's move recognises some of the inherent risks in the transfer of funding from grant to business rates, so it is a step in the right direction towards financial independence and greater local accountability."
Ministers must now make clear how the decentralising process will work, including the procedure for worst-case scenarios and how high-need authorities, who currently have a net reliance on central funding, will be supported, he added.
"They must also make clear exactly which services such as police, public health and special education needs local government will be expected to fund from business rates."
The Local Government Association said that the announcement was "great news for councils".
Chair Gary Porter said that the LGA had long argued that the current system of business rates needed reform in order to help authorities more effectively support small businesses and boost high streets.
"Councils have been hugely restricted in their ability to introduce local discounts with government setting the charge and keeping half of business rates income. With greater local control, councils will have flexibility to reduce business rates for the types of shops and businesses that residents want in their high streets and neighbourhoods," he added.
"Councils and businesses both agree that business rates should be a local tax set by local areas. It is right that all of the money which a business pays is retained by local government and this will be a vital boost to investment in infrastructure and public services."
He also said that the LGA would expect measures to ensure local areas with less ability to generate business rates income do not suffer as a result of these changes.

District Councils' Network director Stephen Brown welcomed the decision.
"The DCN has long argued that districts need incentives that are significant, predictable and permanent to stimulate business growth in our areas," he said.
"However, like everyone else, we will need to delve beyond the headline announcement to fully grasp the details and implications for our members, ahead of next month's Spending Review."
IPPR North director Ed Cox said Osborne should be applauded for taking the devolution agenda into a new bold frontier by giving local areas new powers over business rates.
"The real prize of the devolution agenda is for local areas to have powers over how they collect, raise and spend revenues and this is an important first step towards that goal," he added.
"It will give local leaders the powers and incentives to create greater prosperity – a power which for too long has been held in Whitehall and stymied a rebalancing of the economy."
He also called for Osborne to be clear about the redistributive impact of the reform on local government finance.
"Unless we retain some redistributive mechanism, there is a significant risk it will starve poorer areas of crucial support and allow wealthier ones to collect all the riches."
CBI director general John Cridland said the reform would be welcome as long as it didn't lead to higher costs for businesses.
"If this bold announcement on business rates is a way to cut them, then it will spur councils to take a pro-growth approach, and has the CBI's support. But this must not be a way to increase rates without the consent of the local business community."