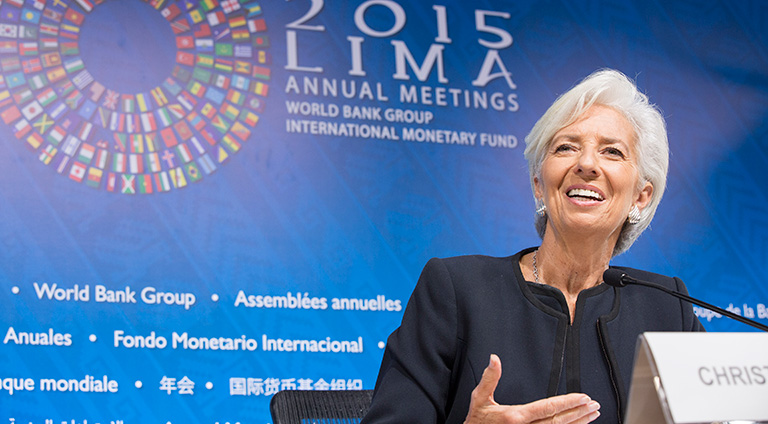 Speaking at the IMF/World Bank annual meeting in Lima, Peru, Christine Lagarde said the IMF believed investment in infrastructure represents a 'win-win' for economies in both the immediate and long term.
Asked about the government's plans at a press briefing, Lagarde said: "It's win-win for the short term because it supports economic activity and it improves the medium to long term potential for growth."
The IMF's latest world economic outlook, published earlier this week, showed global growth in 2015 is likely to be 3.1% – down 0.3% on last year and 0.2% lower than forecast in July. The UK economy is expected to grow by 2.5% this year, compared with 3% in 2014.
According to the IMF, there are insufficient initiatives on infrastructure worldwide to stimulate economic growth. The UK government announced on October 5 that an independent national infrastructure commission, headed by Lord Adonis, will work with the Treasury to look at the UK's needs.
Lagarde, managing director of the IMF, added: "If the fiscal direction imposed by the government is heading for enough stability and can inspire confidence among economic players, it's an excellent choice."
Later, during a debate on the global economy, she described the economic recovery worldwide as "quite modest and very uneven" and too little to help the 200 million people without jobs.
"We have got some recovery but not the picture we would like in advanced economies," she said.
Mark Carney, governor of the Bank of England, refused to make any commitment on UK interest rates but told delegates there was a prospect of a limited and gradual increase starting early next year.
"Those economies that dealt with the challenges of the banks early are debating whether to raise interest rates."
Did you enjoy this article?
to receive daily news from Public Finance to your inbox