By Richard Johnstone | 2 December 2014
Central government is to be involved in the development and sale of homes on public land for the first time in a generation under plans announced by Chief Secretary to the Treasury Danny Alexander as part of the Autumn Statement.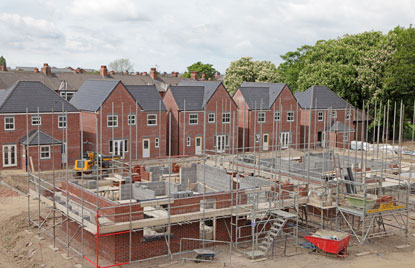 Under the proposals announced today, the government's Homes and Communities Agency will be given responsibility to lead the development of 10,000 homes at a state-owned former RAF base in Northstowe, near Cambridge.
The Treasury will make an up-front investment in the development, which will be master-planned, commissioned and sold by the HCA, with additional funding then raised by the sale of the homes.
The HCA usually awards government funding to housebuilders or sells public land to developers, rather than leading construction itself. However, following the pilot, ministers will consider the feasibility of using this direct model on other sites to support and accelerate housing supply.
Alexander, who first revealed the policy was being considered at the Liberal Democrat party conference in November, said boosting housing supply was vital to the economy.

He also announced the government was increasing the capital allocations for construction of affordable homes by £957m in 2018/19 and 2019/20, and would support plans for construction of a garden town, with 13,000 homes, in Bicester.
'New houses support economic growth and are a crucial element of a fair society, so I've prioritised the investment of almost £2bn to ensure we can build on average 55,000 new homes a year until 2020.
'Combined with the other measures we are announcing today, we will vastly increase supply by providing funding certainty, unlocking capacity in housing associations and kick starting stalled regeneration projects.'
The update to the National Infrastructure Plan also confirms the planned £15bn road investment programme, and has allocated £2.3bn to boost flood defences.
More than 1,400 flood defence projects will be funded over six years, meaning over 300,000 homes will be better protected and over £30bn of economic damage prevented.
Major spending includes £57m for a flood alleviation scheme in Oxford, £80m for the Humber Estuary and over £17m for Tonbridge, Yalding and the surrounding communities in Kent.
Alexander also announced that £15.5m would be spent on flood defences in Somerset over the next six years, including £4.2m on the Somerset Levels, which was among the area hit by storms and flooding earlier this year.
Commercial Secretary to the Treasury Lord Deighton said the plan showed the government was 'delivering on infrastructure, with a long-term strategy to make sure the UK tackles decades of underinvestment'.
He added: 'Investment is increasing to around £460bn over the coming years, with 64% of our prospective infrastructure projects and programmes already underway.
'As part of our long-term economic plan, we've set out government priorities with clear delivery milestones and reformed planning rules to drive forward the most important projects. We are making sure we are building the strong, modern economy of the future.'