By Richard Johnstone | 8 December 2014
NHS England chief executive Simon Stevens has announced that allocations from the extra £2bn government funding to be provided to the health service next year will be set out later this month.
Speaking to the Healthcare Financial Management Association's annual conference on Friday, he revealed that at least £450m of the money provided in the Autumn Statement would be prioritised to implement reforms set out in NHS England's Five Year Forward View.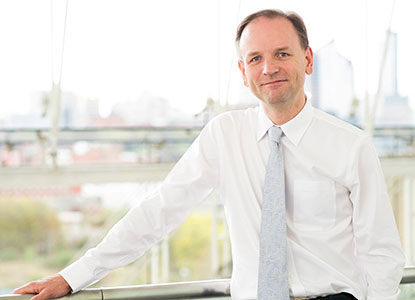 Stevens said the report, which set out the case for additional funding for the NHS in the next parliament as well as for reforms to integrate care, had unlocked 'a hidden consensus about what the future will look like'.
Demarcations between different NHS services that have been hard wired into the system need to be tackled as part of implementing the forward view to 2020/21, Stevens told delegates.
These include the split between primary and specialist care, the divide between physical and mental health services, and the different systems for health and social care. This last area represented the key area in the next five years, and the NHS must recognise that for service users, this is increasingly a distinction without a difference.
'These are the areas we have got to address over this next period of time,' he added.
'And the great thing about the Forward View was that there was quite wide support for that.'
Given this level of support, it was now vital to set out how changes can be implemented, and money will be provided in the allocations to be announced on December 17.
'We are going to be saying in the material we're putting out before Christmas that we're going to put some into mainstream allocations to support frontline services, but at least £450m will be available to begin that transformation work from next April.'
Stevens also indicated that NHS England would enter into discussions about changes to the tariff for NHS services to reflect the circumstances of local health economies.
He highlighted that reforms were proposed earlier this month with health service regulator Monitor to bring funding for hospitals and community and mental health services into line with the way GPs are funded.
The Reforming the payment system for NHS services: supporting the Five Year Forward View report stated changes were likely to comprise of the creation of menus for locally determined payments.
Commissioners and providers would then choose the most appropriate approaches for their local care models, as well as a number of national prices for episodes of care delivered by centres of excellence.
'There are big changes we are going to be making in terms of the way that payment systems in the NHS work to support new models of care,' Stevens told delegates.
'In some parts of what we do tariff-based payments [will continue] but for many of the things we have to grapple with, we want to evolve beyond that.
'We will work with health localities that want to move away from strict tariff payment.'