By Vivienne Russell | 3 December 2014
The UK public finances are on track to be in surplus by 2018/19, despite upward revisions to borrowing forecasts for this year and next, Chancellor George Osborne said in today's Autumn Statement.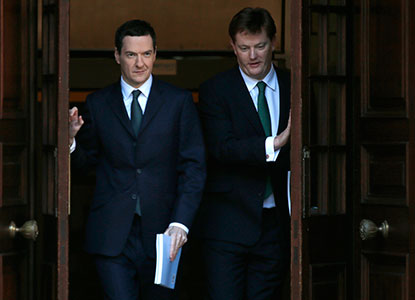 Updated forecasts from the Office for Budget Responsibility put borrowing at £91.3bn this year and £75.9bn next year, up from £86.4bn and £68.3bn as stated in the March Budget.
Beyond 2015, Osborne predicted that borrowing will fall increasingly rapidly, allowing the public finances to show a £4bn surplus in 2018/19, rising to £23bn in 2019/20.
Osborne told MPs that the UK would move 'out of the red and into the black for the first time in a generation'. He added that this would make the UK 'a country that inspires confidence around the world because it seeks to live within its means'.
With tax receipts deteriorating, some were expecting a gloomier outlook for the public finances. And while Osborne acknowledged that revenues are expected to be £23bn lower in 2017/18, he said this fall would be offset by three things: the reduced welfare bill, saving £4bn a year; revisions to national accounts, which have slightly increased the measured rate of spending cuts, yielding another £4bn; and lower interest on the national debt delivering a saving of £16bn.
On the deficit, Osborne said it was forecast to fall by 0.6% of gross domestic product to 5% of GDP, half the 10.2% level it stood at in 2010.
'It's still too high – but with our plan it falls again to 4% next year, then 2.1%, then 0.7% before we move into surpluses of 0.2% and 1% of GDP,' the chancellor said.
'The structural deficit also falls and moves into surplus at the same pace over the next five years, as forecast at the Budget,' he added.
Debt is expected to peak at 81.1% of GDP next year, before starting to fall, dropping to 72.8% of GDP in 2019/20.
An underspend of £10bn this year has allowed the government to put an additional £2bn into the NHS, Osborne added, while the windfall from the foreign exchange fines paid by the banks would fund a £1.2bn investment in GP services across the UK.
Osborne also reiterated that the government was committed to reducing departmental spending in the first two years of the next Parliament to ensure that the surplus is delivered.

'Our control of public sector pay these past four years has delivered £12bn of savings. By continuing to restrain public sector pay we expect to deliver commensurate savings in the next Parliament until we have dealt with the deficit,' he added.