By Richard Johnstone | 16 October 2014

A future Labour government will require councils to produce homebuilding plans for their area and allocate enough land to meet local needs, Ed Miliband has announced.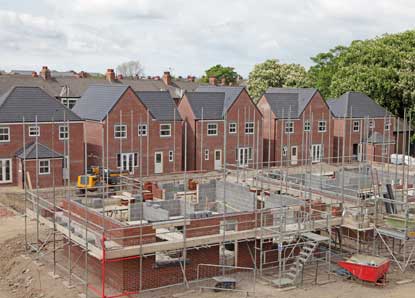 Launching the report of the party's independent housing commission on a visit to Milton Keynes, Miliband said sweeping reforms were needed so communities could build hundreds of thousands of new homes.
Labour has already committed to build 200,000 homes a year by 2020 and Miliband said that the commission, chaired by Sir Michael Lyons, had set out a comprehensive plan to meet this target.
Another recommendation in the report is a proposal that councils be given a power to designate Housing Growth Areas, with additional powers to assemble land and bring developers together. These powers will be in addition to the party's previously announced plans for New Homes Corporations.
In cases where town halls do not allocate sufficient land or come forward with a plan, the planning inspectorate will have powers to step in to ensure housing needs are not ignored, Miliband said.
This would help address the 'systematic failure' of successive governments to build enough homes.
'Too often the trickle of new developments that get completed are snapped up before people from the area can benefit, undermining support for much-needed further development,' he said.
'And, for too many young families, the dream of home ownership is fading fast.'
Housing would also be a priority for any additional capital investment in the next Parliament if Labour was in government following next May's general election.

'We will get Britain building again by insisting local authorities have a plan to meet the need for housing in their area – and that the big developers play their part rather than hold land back.'
Lyons said that the country faced the biggest housing crisis in a generation.

'We simply have to do better as a nation, not only because our children and grandchildren need the homes we should be providing now, but because greater house building will make a direct contribution to national economic growth.'
He said his recommendations would require a more active role for local government in ensuring the availability of land, as well as entering into risk sharing partnerships with developers and landowners.
Shadow local government secretary Hilary Benn stated many people currently felt that developers rather than local people seemed in control of the planning process and the provision of new homes.
'So we are making you an offer: you take on responsibility for providing homes for the next generation and in return we will help you ensure that the right kind of homes get built in the places xyou want,' he added.
However, Conservative housing minister Brandon Lewis said the government would not take 'any lectures from Labour on housebuilding'.
He added: 'Thanks to this government's long-term economic plan, house building in England is at its highest since 2007 and in the last 12 months, 230,000 homes received planning permission.'
Responding to the report, Peter Box, the chair of the Local Government Association's environment, economy, housing and transport board, welcomed that it had recognises the central role councils need to be given in addressing the housing crisis.

However, he said it was disappointing it had not recommended removing the current housing borrowing limits placed on councils, which was the single biggest obstacle to delivering thousands of homes.
'The housing borrowing cap is fundamentally flawed and places unnecessary restrictions on the amount of money councils can invest in housing. Until this is removed councils will continue to be hampered in our efforts to provide the homes residents need,' he said.
'It is positive that the Lyons Review has also recognised the importance of giving councils a lead role in speeding up building and making sure increased land values benefit communities through investment in schools and roads.'