By Richard Johnstone in Glasgow | 6 October 2014
Chief Secretary to the Treasury Danny Alexander has set out plans for deficit reduction based on three fiscal rules involving both spending cuts and tax rises.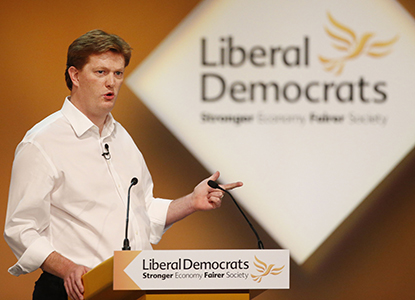 Alexander said that if the Liberal Democrats formed part of the next government, the party would legislate to ensure that debt was falling as a proportion of the economy, and that it would reach 'sustainable' levels by the mid-2020s.
This would come after the deficit was closed by April 2018, as is currently planned, he added.
Although this would require an 'ongoing fiscal effort' once the public finances were in surplus, Alexander also said that the LibDems wanted to make sure there was investment in economic infrastructure such as roads, railways, broadband internet provision and housing.
He said that a second rule would allow for extra borrowing in these areas as long as debt was falling as a proportion of gross domestic product.
A 'fairness rule' would also be introduced to ensure that the wealthiest people continue to contribute most to the deficit reduction after next May's general election, Alexander said.
The party has proposed the creation of two new council tax bands to increase tax on homes worth more than £2m. But this proposal comes after Prime Minister David Cameron said there would be no need for extra tax rises to balance the books.
Alexander said that the Treasury would continue its analysis of how much each income group is contributing to deficit reduction, to show the burden was being shared.
'I insisted on it, and every time it has shown the same thing – everyone has done their bit, but the best off have contributed the biggest share of their income to help pay down the deficit,' Alexander said.
'Rightly so, so our third fiscal rule will require that to be the case until the deficit has gone.'
He added that the LibDems were prepared to allow public spending to grow as the economy grows, providing that debt falls as a proportion of GDP.
'Fairness will be at the heart of the economic policy of any government that we are part of in the next Parliament,' Alexander said.
'We will balance the budget as planned, do it fairly, and then allow public spending to grow as the economy grows. With pensions and healthcare costs rising and debt to be reduced, the belt will need to stay tight, but we are able to ensure the NHS has the funds it needs through the next Parliament.'
A motion passed at the party's conference called for an extra £1bn in funding to be made available to the NHS in the years 2016/17 and 2017/18, in addition to the existing ring fenced commitment.