By Richard Johnstone in Glasgow | 18 September 2013
Public spending cuts are going to be needed until 2020, Chief Secretary to the Treasury Danny Alexander has said, despite the government planning to eliminate the structural deficit by 2018.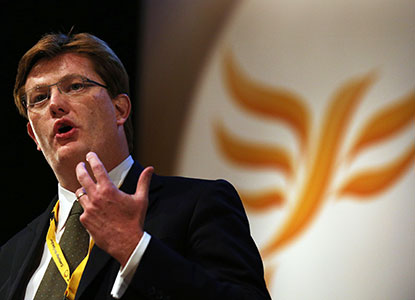 In his speech to the Liberal Democrat party conference yesterday, Alexander said that the coalition government had seen the economy 'though its darkest hour' with 'the recovery is under way'. But he added that further cuts would be needed after the 2015 general election to get the national debt down.
'We still have work to do to finish the job,' Alexander said. 'We've taken tough decisions to get the deficit under control. And, yes, there will be more in the next Parliament. It will be another five years shaped by the necessity of fiscal constraint. But by the middle of the next parliament we will have eliminated the structural deficit.'
However, reaching this point does not mean 'the country can then go back to bad old habits', he added.
'There's no spending bonanza round the corner. Our nation's debt will need to be reduced. It wouldn't be fair to pass it on to future generations.'
In addition, the public spending pressures as a result of 'an ageing and growing population will have to be paid for', he said, meaning 'tough decisions' would still be needed.
Alexander also announced that the government's investment in Revenue & Customs to fund a clampdown on tax avoidance would increase tax revenues by £10bn a year by 2015.
He said the government was 'closing the net on the immoral minority who believe that paying the proper amount of tax just isn't for them'.
In particular, he announced the government was set to launch a campaign to claim back the £500m owed to the taxman from landlords that do not pay the correct tax on rents, such as those who own more than one property or let out holiday homes.
'We're launching a campaign with a simple message for the rouge minority of landlords: pay up or face the consequences'.
He also indicated that higher taxes on the wealthy will be one of the 'central promises' in the LibDems' next election manifesto.
Speaking after the party pledged to introduce a mansion tax on properties worth more than £2m and a cut in pension tax relief, Alexander said these would form a key part of the party's next election campaign.