By Richard Johnstone | 15 September 2014           
The government's flagship scheme to boost domestic energy efficiency is failing and should be revamped to offer households discounts on council tax for undertaking improvements, MPs said today.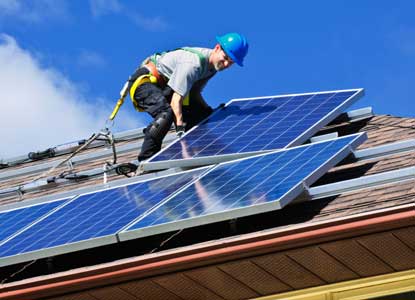 Examining the government's Green Deal energy efficiency programme, the energy and climate change select committee said the programme had failed to deliver the scale of home improvements needed to cut carbon emissions and protect consumers from high energy bills.
Under the initiative launched last year, residents are able to have several energy efficiency home improvements carried out at no upfront cost. The initial funds are met by investors in The Green Deal Finance Company, supplemented by a £1.3bn annual energy obligation from the Big Six energy companies.
The costs of improvements – such as installing more energy-efficient boilers and solid wall insulation, as well as solar panels – will then be paid back through each homes' energy bills.
However, committee chair Tim Yeo said this had not been effective in driving the action needed
'Stamp duty discounts and variable council tax rates could be used to broaden the appeal of energy efficiency improvements and make them even more of a money saver for households,' he said.
'Extra incentives certainly need to be considered, as the government's flagship pay-as-you-save finance scheme, the Green Deal, has only delivered a fraction of the expected benefits so far.'
Although the committee said Green Deal was, in principle, an attractive proposition, high interest rates attached to the loan were putting off potential customers, as many households are able to find cheaper finance mechanisms elsewhere.
Yeo said these rates were 'simply not financially attractive enough for many households to go to the hassle of setting one up'.
He added: 'By its nature this kind of scheme also only appeals to a certain section of the population who are in a position to take out loans on home improvements.
'Broader incentives could encourage lots more households to take simpler and cheaper steps to improve the energy efficiency of their properties and save money on their energy bills. Insulating our homes to make them warmer will bring benefits both for homeowners and for society, as we enhance our energy security and lower our carbon emissions.'
Responding to the report, Energy and Climate Change Secretary Ed Davey said he shared the committee's ambition to drive a step-change in home energy efficiency.
'Our target is to improve the energy efficiency of 1 million homes by March 2015 – and we're on track. £540m has been committed and as of June we have improved over 750,000 homes,' he added.