By Keith Aitken in Edinburgh | 2 September 2014
Promises by the three pro-union parties to guarantee Holyrood more tax powers if Scots vote no to independence have been cast into serious doubt by objections from London mayor Boris Johnson, a former Labour first minister of Scotland has told Public Finance.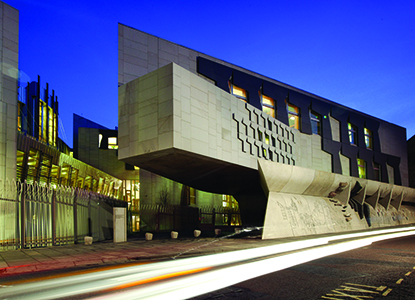 Henry McLeish's comments came as the public finances moved centre stage in the closing weeks of Scotland's referendum campaign. Key issues as the September 18 vote approached included Scotland's right to keep the pound, its responsibilities towards shared public debt, and the implications of the referendum options for public services, benefits, and social justice.
Johnson, who recently announced plans to return to the Commons and has been widely tipped as a future Conservative leader, claimed Scotland had no need of further tax powers and that England had been overlooked in the devolution process. He was quoted in the Mail on Sunday as saying: 'For no reason, we are promising the Scots more tax-raising powers. There's no need to do it. 'What has England ever got out of this devolution process?
'If you want to have growth in the English cities then you should do what Manchester wants, what Liverpool, Leeds, all of us want – and that's give us more tax-raising powers.'
McLeish labelled the mayor's comments as 'a godsend for the yes campaign'.
The former first minister, who said that he personally still inclines towards voting no, told PF: 'It just illustrates to Scots that people like Johnson have absolutely no understanding of why this campaign is taking place, and no empathy whatsoever with a nation seeking a better deal within the union.'
The parties in the no campaign have all promised Holyrood extra fiscal powers in the event of a no vote, and in August all three said they would entrench the promise in their general election manifestos. The Conservatives plan to give Holyrood full control of income tax, and have suggested devolving some aspects of social security such as Housing Benefit, while the Liberal Democrats favour a federal UK in which Holyrood would control most of the fiscal regime. Labour would give Holyrood power to vary the basic rate by up to 15p and to introduce a new 50p rate for top earners.
The timing of Johnson's comments also infuriated McLeish. 'It's not just an accident that this has happened. There is much unrest in the minds of English MPs and potential MPs that Scotland is carving a path from which they are excluded and stealing a march on them.
'What you are seeing is an anti-Scottish consensus emerging, when Scots need reassurance about the meaning of a no vote. Once again, we are getting threats and fears and scares. They are saying, if you vote yes we won't allow you to use the currency and you might not get any tax powers.
'It also puts into doubt what a no vote will actually mean ... Are the tax powers going to be available? What will be the priorities? Where does Ukip fit in?'
McLeish said that Labour had been wrong to join the UK coalition parties in the no campaign, Better Together, and that Westminster had consistently failed to recognise the changes needed to preserve the union.
'Westminster has decided to ignore England in the whole of this constitutional debate, through Blair, Brown and Cameron. It's not Scotland's fault – it's England's,' he said.
'In the meantime it will serve no useful purpose to the no campaign if Johnson is allowed by Cameron to run amok. It's absolutely essential that Cameron exercise some control.'