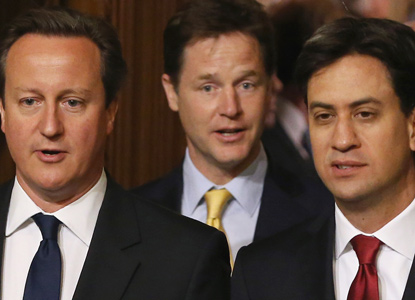 The cross-party initiative, which yes campaigners said was a panic measure in response to neck-and-neck polls, is aimed at convincing Scots to vote no to independence in return for an agreed timetable to begin transferring more tax powers to Holyrood after the next UK election.
Under the timetable – set out by former prime minister Gordon Brown on behalf of the Labour, Conservative and Liberal Democrat parties – preparatory work on new legislation to shift more fiscal power to Edinburgh would begin next Friday. A white paper would follow in November and the draft of a new Scotland Act published by Burns Night on January 25.
Tax reforms already made under the last Scotland Act, passed in 2012, are not due to come into force until 2016, when Holyrood would gain responsibility for setting and collecting the basic rate of income tax above 10p in the pound. The additional powers now on offer would further increase Holyrood's authority over taxation, borrowing and welfare.
However, Brown's timetable comes despite the fact that the pro-union parties are still offering significantly different plans from each other. David Cameron, Ed Miliband and Nick Clegg, who are missing Prime Minister's Questions to campaign, are not due to appear together during today's co-ordinated visits.
This decision comes after opinion polls showed that the no side's once commanding lead had evaporated as the referendum campaign enters its closing stages. One poll, at the weekend, put yes ahead for the first time, and two more since then have shown the two sides effectively tied.
Cameron set the tone of the message on arrival this morning in Edinburgh where he warned Scots that the referendum was not like an election, but an irreversible decision. He also spoke of his pride in British achievements, saying: 'I love my country more than I love my party.'
Miliband, aware that substantial numbers of traditional Labour voters appear to be shifting to yes, said: 'Scotland's values of fairness, justice and equality have shone through in this referendum campaign. But to meet those values I know we have to change our country. Together we can do that, not by irreversibly breaking apart with all the risks that means, but by building a different future.'
However, Scotland's First Minister Alex Salmond predicted that the initiative was a panic measure that would backfire, declaring that if he had thought the three leaders were coming north by bus he would have offered to pay for their tickets.
'What we are seeing today on the other side is Team Westminster jetting up to Scotland for the day because they are panicking in the campaign,' Salmond told a meeting in Edinburgh.
'The breadth and reach of the 'Yes' campaign is there for all to see – it is not about the Scottish National Party, the Green Party or political parties. It goes right through the whole sector of Scottish society.'