By Richard Johnstone | 6 June 2014
The government has been warned that a lack of consistency in the funding of road maintenance for both the Highways Agency and local authorities is putting public value at risk.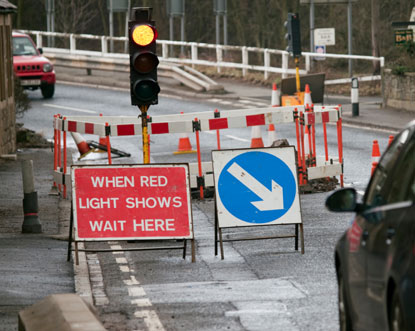 In a report examining road maintenance spending in England, the National Audit Office said funding for the Highways Agency, which maintains the strategic road network, would fall by 7% over the course of the 2011/12-2014/15 Spending Review period. This was a smaller cut than the 19% originally anticipated and reflected additional capital funding injections.
However, this unpredictability meant public value could be lost as the agency, which is set to become a stand-alone company following government reforms, was unable to plan its maintenance programme effectively, increasing costs in the long-term.
Today's Maintaining strategic infrastructure: roads report stated that funding pressures on the agency and local highways authorities had led to efficiency and innovation in how the annual £4bn maintenance budget for England's 187,000 miles of roads was spent in 2012/13.
However, auditor general Amyas Morse said stop-start funding made planning the necessary work more difficult.
'The Department for Transport understands the threat posed to road maintenance from the uncertainty of funding, but establishing a new government company to address the problems will not, in itself, be enough.
'The department should work with the Treasury and the Department for Communities and Local Government to address the unpredictability of funding for both the strategic and local road networks,' he said.
According to the report, the current pattern of funding, combined with the need to spend money within the financial year, means most road maintenance is carried out between September and March. Although this reduces disruption for road users, it is less efficient than carrying out the work at other times of year because materials can be more difficult to handle in cold and wet conditions, and daylight hours are shorter.
Additional funding for emergency repairs is also made available at the end of the financial year. As a result, almost all highways authorities need extra capacity from contractors at the same time, making it less likely that they will obtain value for money.
Public Accounts Committee chair Margaret Hodge said it was 'very frustrating that the Department for Transport still has not got a grip on how it funds road maintenance and improvement works so they can be planned sensibly'.
She added: 'Since 2010, additional funding has been announced ten separate times, clearly showing that the department has no long-term funding plan to make sure the road network runs properly.
'This short-termism will undoubtedly lead to increased costs in the long run as the work needed becomes more substantial and road conditions worsen.'
But DfT spokesman said the reformed Highways Agency would be more transparent and accountable and able to provide funding stability over longer periods.
He added: 'We are determined to help councils tackle potholes which is why we have increased funding by more than 27% in this parliamentary term compared with the last one. All in all, we are providing councils in England with more than £10bn from 2010 to 2021 for local highway maintenance, with clear guidance on ensuring it is used efficiently.'