By Richard Johnstone | 29 May 2014
The government has agreed to write-off the historical housing stock debt of Salford City Council as part of moves to transfer ownership of the properties to Salix social housing company.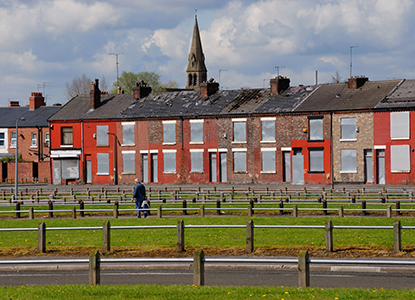 Housing minister Kris Hopkins has approved the write-off of the council's £65.1m housing debt – taken on by the council following the government's abolition of the Housing Revenue Account subsidy system – to unlock as much as £75m in investment.
This is the third write-off proposed under agreements with government, with both Gloucester and Durham already working on deals.
Currently, Salford's 8,500 social homes are owned by Salford City Council and managed by Salix Homes, a not-for-profit company.
Under the terms of the deal reached today, ownership will be transferred to Salix, with the government writing off the debt.
In exchange, Salix has committed to invest £75m to make sure all 8,500 properties will reach the government's Decent Homes standard by 2020. This will include 4,000 homes getting new kitchens or bathrooms, 2,000 homes benefiting from new windows and 3,000 homes with improved heating.
'Today's deal is great news for Salford's residents, unlocking £75m to invest in bringing their homes up to a high standard,' Hopkins said.
'This investment from Salix will mean residents in all 8,500 social homes in Salford will benefit from a range of improvements, whether new kitchens or bathrooms, new windows or better heating.
'So I'm pleased to sign this deal with the city council and write off £65m of their historic housing debt, so they can put the offer to their tenants and so Salix can plan ahead for the investment they have committed to making.'
Gena Merrett, assistant mayor for housing and environment at Salford City Council, said the announcement was 'fantastic' news for Salford.
'Salix Homes has an excellent track record in delivering a first-class housing service in Salford,' she said. 'They are in a strong position to make the necessary investment to the homes and provide the kind of housing service that the people of Salford deserve.'
The deal will now be put to consultation, before Salford tenants get a chance to vote on the plan later this year. Only if tenants vote yes will the deal go ahead.