By Richard Johnstone | 2 April 2014
Councils in England are to share £410m to fund plans to bring together local public service, reduce duplication and cut costs, Local Government Secretary Eric Pickles announced today.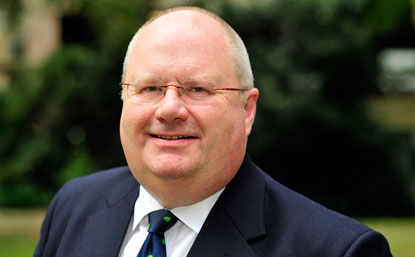 The funding forms part of the government's public service reform programme, which is intended to build upon Community Budget pilot schemes to integrate provision and increase sharing between authorities.
Following the announcement in the Budget of the expansion of the government's Troubled Families programme, some of the funding will be focused on bringing together services for individuals and families with complex needs. Money has also been made available to improve coordination of employment and skills support in authorities, health and social care integration and early intervention services.
Pickles said the funding would help fundamentally change the way local public services are delivered.
'The Troubled Families programme has led the way in showing how services can be improved by building them around what people want and need, not how agencies want to organise themselves,' he said.
'We now want to take the same approach to all services, starting with joined up health and social care through our £3.8bn Better Care Fund, which will help keep people out of hospital and provide high-quality care at home. This funding will help councils to transform their services faster and provide a better deal for the taxpayer too.'
Town halls have already been given £90m, including a £83m capitalisation allocation to allow capital receipts to be used for revenue spending on service reforms.
Schemes that will be supported include a £750,000 Blackburn with Darwen council programme to integrate services with 16 different agencies to tackle violence crisis points. Other successful bids include £750,000 for two councils – Taunton Deane and West Somerset – to extend their shared management arrangements to more services.
Nine of the groups of authorities that form part of the Public Service Transformation Network have also been awarded funds totalling £1m. These include the West London Alliance of six councils – Barnet, Brent, Ealing, Harrow, Hillingdon and Hounslow – which been awarded £150,000 to improve employment support for young people and the unemployed. 
Three of the original Community Budget pilot areas – West Cheshire, Essex and Greater Manchester – have also been awarded a total £350,000 to boost their ongoing reforms.
A bidding process for the remaining £320m has opened today, with ministers highlighting that proposals from smaller district councils that want to share management teams would be among those considered. The total will be made up of £120m awarded through the government's Transformation Challenge Award programme and distribution of £200m worth of capital receipt flexibility in 2015/16.
Local government minister Brandon Lewis added that authorities that already working to reform services had shown how local partnerships and services redesigned around individuals can lead to better outcomes. 
'Residents' satisfaction with local government is either constant or improved compared to 2010, and that trend will continue if others learn from the best and deliver better services and a better deal for local people,' he added.