By Richard Johnstone | 31 March 2014 
Chancellor George Osborne has committed the government to a goal of full employment and said job creation would now form a central plank of the coalition's economic plan.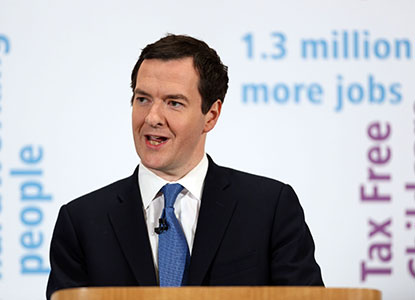 In a speech at Tilbury docks in Essex today, the chancellor said he wanted to see more jobs created in Britain and for the economy to support full employment as the recovery continued.
'We want Britain to be the best place in the world for you to find a job [and] the best place in the world to hold a job,' he said.
It was not possible for ministers to micro-manage the economy and guarantee a job for everyone, Osborne stated, but they could create the best environment for business expansion.
'There is no reason why Britain shouldn't aim to have the highest employment rate of any of the world's leading economies.To have more people working than any of the other countries in the G7 group,' he said.

'A modern approach to full employment means backing business. It means cutting the tax on jobs and reforming welfare. It means improving our schools. It means spending less on benefits, so we can invest more in creating new jobs: by having more apprenticeships, new roads and railways, and making Britain a world leader in science.
'That is what I mean when I say that we are going for full employment. These are things within the power of the government.'
The coalition's reforms to welfare were also needed to cut the unemployment rate, he said. From next Monday, the government's Help to Work scheme will introduce new requirements for people who have not found jobs after two years in the government's flagship Work Programme.
Under the last Labour administration, there was not enough pressure on those out of work to get a job, Osborne said, which is why changes were needed.
'That's not fair to them – because they get trapped in poverty and their aspirations are squashed. It's certainly not fair to taxpayers like you, who get up, go out to work, pay your taxes and pay for those benefits.'
Also in the speech, the chancellor said tax changes being introduced later this week represent the biggest reduction in the burden on individuals and businesses in two decades.

Raising the income tax personal allowance by £560 to £10,000 for 2014/15 from Sunday was part of the government's economic recovery plan, allowing people to keep more of their earnings. Coupled to the cut in corporation tax, which will fall from 23% to 21% tomorrow, the changes represented 'a big moment' for the UK, Osborne said.

'This week you will keep more of the money you earn. This week your business can keep more of the money it makes, so you can invest, expand and create new jobs.'
Stability was returning to the UK economy and confidence was growing, the chancellor added.
'Companies are moving here, investment is happening here. Britain is starting to walk tall in the world again.'