By Richard Johnstone | 10 March 2014
Councils are to receive an extra £140m to repair roads damaged by this winter's severe weather, but local authorities warned the money would not be enough to cover the maintenance bill.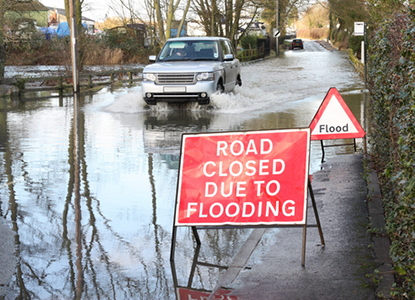 Transport Secretary Patrick McLoughlin announced yesterday that £43.5m of emergency funding would be made available to repair the worst affected roads in flood-hit parts of England. In addition, an extra £103.5m will be provided across all authorities as part of their allocation from the Department for Transport. This takes the total funding available for road maintenance work above £1bn in the current financial year.
McLoughlin said ensuring the right infrastructure was in place to support businesses and 'hardworking people' was crucial to the government's long-term economic plan.
'This extra money will help make a real difference to the millions of road users and local residents who rely on local roads, giving them safer and smoother journeys,' he added.
The Department for Transport said the decision on extra funding had come after councils were able to assess the impact of the floods once the waters had receded. Money will now be allocated on a formula basis, and should be received by most councils by the end of the week, McLoughlin said.
As a condition of receiving the funding, town halls will need to publish information on their websites by the end of August showing where this money has been spent.
Responding to the announcement, Mike Jones, chair of the Local Government Association's environment and housing board, said the additional support was welcome.
However, he added: 'We do not yet know what the full bill for the cost of this winter's devastating floods will be, but we expect it to be more than £140m.'
Any shortfall in repairs would be added to the existing backlog, estimated to be £10.5bn across Britain, Jones said.
'There is an even greater need for increased and consistent funding over a number of years for the road network to recover, such as investing in widespread resurfacing projects. This money shows the government has recognised the need to provide additional funding.'