By Richard Johnstone | 18 December 2013
Council funding will be cut by nearly 3% in England from next April, but authorities in London and metropolitan areas will face reductions of more than 4%, Local Government Secretary Eric Pickles has announced.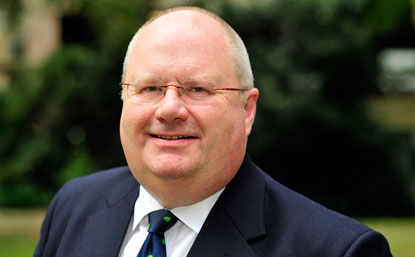 The total reduction in council spending power – a calculation of both government grants and council tax revenue – will be nearly £1.7bn in 2014/15, Pickles said today. This equates to a 2.9% average reduction in funding, according to the provisional local government finance settlement.
However, greater reductions are imposed on London authorities – down 4.5% on average – and metropolitan districts, reduced by 4.2%. Funding for cities will also see greater than average falls. Spending power is to be cut 5.5% for Liverpool, 5.3% for Birmingham and 5% for Manchester.
The largest cut for individual authorities is 6.9% for Chesterfield in Derbyshire and East Lindsey in Lincolnshire. A total of 38 authorities have either received a flat settlement, or will receive an increase in spending power.
Publishing the settlement in a written statement today, Pickles said town halls must remain focused on delivering savings so they can both improve services and keep council tax down. 
He also set out details of the government's council tax freeze grant for the next two years.
Authorities have been offered £550m over the next two years to freeze the tax, which would mean that the tax has been kept flat for five years.
Also from April, grants for the previous freezes in 2011/12 and 2013/14 will also be included in the funding settlement total for future years, and the next two years of freeze funding will also form part of the baseline. The Department for Communities and Local Government said this would give councils the maximum possible certainty of future funding.
'This year, councils should continue to focus on cutting waste and making sensible savings to protect frontline services and keep council tax down. Extra funding is on offer to councils to freeze council tax for a fourth year in a row,' Pickles added.
'Opinion polling suggests that satisfaction with local government is either constant or improved compared to 2010, helped by the fact that council tax bills have been cut by 10% in real terms.' 
DCLG also highlighted the 'significant scope' for councils to merge back-office services, improve procurement and tackle £2.4bn of local fraud to mitigate the impact of reductions.
Today's settlement also marks the second year of business rates retention, where councils receive the half of the growth in rates.
As a result of this reform, councils now generate more than 70% of their income locally compared to just 56% under the old system, the department stated.
Pickles also announced that the threshold at which authorities will need to hold a local referendum if they choose to increase council tax instead of accept the freeze grant would be published in the New Year. 
This was set at 2% last year, but Pickles said ministers were 'particularly open to representations suggesting that some lower threshold be applied to councils, given the strong need to protect taxpayers wherever possible from unreasonable increases in bills'.
Local Government Association chair Sir Merrick Cockell said the settlement confirms that councils 'will continue to be at the sharp end of public sector spending cuts up to 2016'.
The next two years will be the toughest yet for people who rely on local government services, he said. 
'The money government gives to councils to run local services will fall by 8.5% over the next two years, but as a result of the Autumn Statement there will not be an additional reduction on top of this.
'By the end of this Parliament local government will have to have made £20bn  worth of savings. Councils have so far largely restricted the impact of the cuts on their residents. They have worked hard to save those services that people most value and have protected spending on social care for children and the elderly, but even these areas are now facing reductions. That impact will only increase over the next two years.'
CIPFA chief executive Rob Whiteman said the settlement was an 'unfortunate demonstration of how urgently we need an independent commission into local government funding'.
He added: 'The opaque nature of figures and their presentation in the settlement demonstrates just how desperately we need to take the see-saw of party politics out of the allocation of funding and instead base it upon need.
'When government ministers compare such different councils as affluent Windsor and metropolitan Newcastle in an attempt to justify the "fairness" of the settlement it only serves to highlight how out of touch this process has become.'