By Richard Johnstone in Birmingham | 8 October 2012
Town halls in England are to be offered funding for a third successive council tax freeze next year but the amount available to each authority has been cut, Local Government Secretary Eric Pickles has revealed.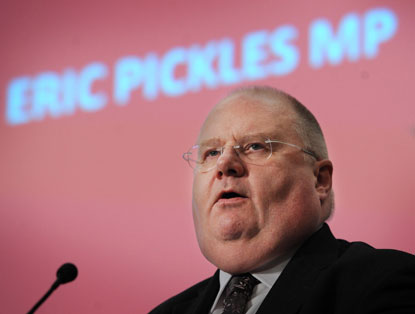 Addressing the Conservative Party conference today, Pickles said that £450m would be available for councils to freeze the tax and 'help hard-working families and those on fixed incomes, such as pensioners, with their cost of living'. But his announcement prompted concerns from CIPFA and the Local Government Association that this represented an erosion of localism.
Councils that freeze or cut their bills next year will be eligible for a share of the grant, paid over two years. This is equivalent to a 1% increase in council tax from next April. However, the total funding for this year's freeze was £805m, equal to a 2.5% increase on 2011/12 bills for authorities.
Some authorities rejected the offer to hold down their 2012/13 billsas the cash was a one-off payment and not integrated into their basic funding. This meant they would have faced a shortfall next year. But according to Pickles' announcement today, the 2013/14 funding would form part of councils' financial baselines to the end of the Spending Review period.
Pickles said that if councils, police and fire authorities accepted the offer, it would mean a real-terms fall of 9% in council tax over the past three years of the coalition government.
He added: 'A third year's freeze will mean the combined effect is potentially worth over £200 to Band D residents. Freezing bills again will really help hard-working families and those on fixed incomes, such as pensioners, with their cost of living.'
Pickles also announced that the government would reduce the council tax rise that would trigger an automatic referendum of residents from 3.5% to 2%. Some councils increased council tax up to the 3.5% threshold last year.
The Department for Communities and Local Government said it would shortly write to all English local authorities with full details of the scheme, including an indicative breakdown of estimated grants. Details on the tax referendum thresholds will be revealed alongside the provisional Local Government Finance Settlement in December.
Responding to the announcement, CIPFA chief executive Steve Freer said it was 'worrying that we seem to be drifting to a position in which the council tax is effectively determined by central rather than local government'.
He added: 'That's bad news for local democracy and sits awkwardly with the government's own localism policy.'
Freer also stressed the importance of confirming that the freeze grant funding was 'new money' and not an allocation within the existing control total for local government. 'It's one thing to make new money available to incentivise councils to follow a national policy lead. It's quite another to do so with resources which are already earmarked for councils' funding,' he said.
Sir Merrick Cockell, chair of the Local Government Association, said reducing the current 'referendum trigger' would mean 'less flexibility for councils and even less localism, with Whitehall decreeing what constitutes excessive'.
He added: 'Councils care for the elderly, look after vulnerable children and collect the bins from our streets. To carry on doing this effectively, local authorities need local discretion to consider the long-term interests of their residents before deciding if they will take up this government offer.'