By Richard Johnstone | 6 November 2013
The Treasury's review of financial management in Whitehall is likely to recommend the formation of a stronger central function in government, the head of the civil service has revealed.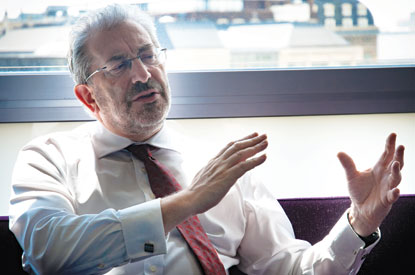 Speaking to Public Finance, Sir Bob Kerslake said the capability review, which was established at the Spending Review in June, would report around the Autumn Statement on December 4.
Kerslake told PF that the quality of the finance function across government had 'come on leaps and bounds' in recent years.
However, the Treasury review, which was established to examine ways to build stronger and more effective leadership to support the finance function, was likely to lead to a beefed-up central role. This would work alongside retained finance teams in departments, which would have a so-called dotted line reporting relationship to the centre, he said.
'We've got a review under way at the moment, and I think that will come out with a stronger – not a centralised but a stronger – corporate finance function. But that hasn't been finalised yet – it's part of the review that's to be completed by Treasury. 
'What I'm saying is, I think a stronger function is what there will be, but with "dotted lines" to finance teams in departments.'
He added that, as there were already shared service centres for transactional functions, the reforms would apply to the expert finance function, including financial management. 
There would also be a 'closer relationship' between the individuals in charge of the finance function in departments and the leadership for the profession across government.
'I think the work hasn't been completed, so I wouldn't want to prejudge the report… but clearly it is a closer relationship between what I would call functional leadership and professional leadership.'
Kerslake was speaking to PF following an event at the Institute for Government looking at the next steps for civil service reform. 
Speaking at the event, Kerslake said discussions on shared services in Whitehall had gone at a 'glacial pace' in the past, but were now moving much faster. 
The government was 'fundamentally re-examining' the traditional model of services being provided by every department in Whitehall. As well as finance, this includes internal audit services, human resources and communications.
However, there will be no 'one-size-fits-all' approach to the use of shared services, Kerslake said. For example, the legal profession in Whitehall had been centralised into a single service, but this would not replicated in all other services.
Reforms would take 'a number of years', he added. 'I'm not expecting this to be easy or uncontested, but it will be done.'