By Richard Johnstone in Manchester | 1 October 2013
The government's controversial new back-to-work scheme is to be piloted in two parts of the UK, the Work and Pensions Secretary Iain Duncan Smith said today.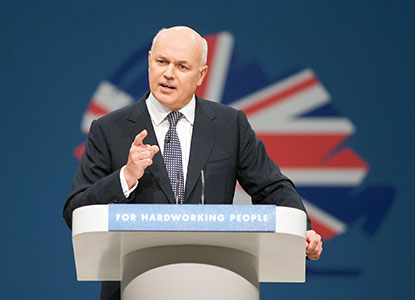 Providing more information on the coalition's proposed 'Help to Work' scheme, intended to help people who have still not found jobs after two years in the flagship Work Programme, Duncan Smith said he determined to end the 'damaging something-for-nothing culture'.
He announced that, under trials of a new 'attendance centre' approach, some claimants would be required to attend jobcentres every working day, where they will receive support and supervision while they search and apply for jobs. They will be required to attend for 35 hours a week for up to six months.
Two pilots are due to be run, Duncan Smith said. The first will target the long-term unemployed, as part of the Help to Work scheme announced by Chancellor George Osborne yesterday. This programme, for people who are still out of work after completing the Work Programme, could also lead to some people receiving Jobseeker's Allowance doing community work, such as clearing up litter or working for local charities when it is introduced next April.
Attendance centres will also be tested in a second group of claimants, who have been identified as likely to benefit from this intensive regime early on in their claim, Duncan Smith said.
Failures to attend the centres without good reason will lead to sanctions, Duncan Smith told delegates. The schemes, which should be running by next autumn, will test the approach ahead of a national rollout. No pilot areas have yet been confirmed.
Duncan Smith said the government would 'do everything we can for those who have come through the Work Programme and still don't have a job'.
'But for those who aren't doing all they could, or who we think are cheating the system, it is time to make very clear that enough is enough,' he added.
'That is why we are also launching two pilots for full-time mandatory attendance centres: one for claimants prior to joining the Work Programme; the other for those who have come out the other side of post Work Programme support, still without a job.'
He added that the risk of sanction in the mandatory scheme was 'only fair'.
The announcement of the Help to Work scheme by Osborne yesterday has been criticised by some anti-poverty campaigners. The Child Poverty Action Group said the plan was 'the same old headline-candy rhetoric about getting tough on claimants, but nothing addressing the root causes of failure of the labour market to provide enough decent jobs'.
Chief executive Alison Garnham said: 'We already have an intensive regime of support called the Work Programme, and [this] announcement is an admission it's failing; but instead of putting it right the plan is to shunt the people it's failed onto yet another scheme afterwards.
'The labour market failures need to be addressed, because we know already that most of those who are out of work longest are in parts of the country where the market is not providing enough jobs.'