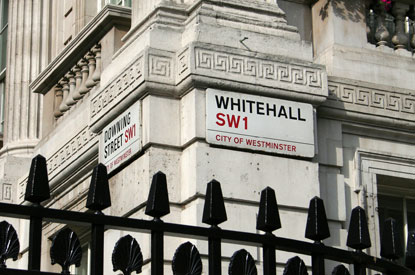 In its first-ever annual report on Whitehall, the IfG said the rate of reductions slowed in 2012 and in some departments tailed off completely.
A number of departments made significant cuts to their workforce following the Spending Review in October 2010, the IfG said. The Department for Work and Pensions is now 20,000 staff smaller, and the Ministry of Defence has lost more than 15,000 employees. Other smaller departments, such as the Department for Communities and Local Government, Department for Culture, Media and Sport and the Cabinet Office, have seen total staff numbers fall by more than 20%.
However, the Whitehall Monitor 2013 report found the rate of job cuts across the whole of government was now below the level needed to ensure the overall 20% staff reduction, or 380,000 posts, set out in the Civil service reform plan is met.
In the last quarter used for the report – the first three months of 2013 ­– the civil service headcount fell by 2,760 full-time equivalent posts. In order to reach the reform plan objective, this will need to increase to an average of more than 3,000 posts each quarter, the report said.
'With the initial rounds of staff reductions having been completed in many departments, the rate of reductions will need to increase again if the levels set out in the Civil service reform plan are to be achieved by 2015.'
The monitor also called for improvements to the data available to measure government performance.
A lack of useable public information on how well Whitehall meets its objectives makes assessing overall government effectiveness 'an impossible task', the report stated.
While the IfG said the government had increased the availability of data, this had not led to greater understanding of Whitehall performance.
The study examined more than 500 data releases, and found inconsistencies and gaps in the available information. Flaws included insufficient links between the resources that individual departments receive, how they are deployed, and eventual performance against the government's end goals.
More should therefore be done to ensure that information produced by departments, such as annual reports, are provided in a consistent form across all of Whitehall.
The institute also called on the government to make it easier to find out what data is produced by publishing an index of available information, with an explanation of each type's purpose and coverage. Any gaps should also be highlighted.
Report author Justine Stephen said it was critical that data was improved.
'Transparency of information has improved, but no "arm-chair auditor" wants to waste their time trying to analyse and hold the government to account using frameworks, such as the business plans, that those inside Whitehall consider to be irrelevant,' she said.
'Individual departments are developing good ways to track their outcomes, but at a cross-government level, it is much harder to build a picture of Whitehall or to see what impact it is having. Next year we hope to be able to more easily see how Whitehall is doing at managing our money and being accountable for it.'
Responding to the report, a Cabinet Office spokeswoman highlighted that the government had last month published a database showing how Whitehall departments spend their money, called Government Interrogating Spending Tool (Gist).
She added: 'This is the most transparent government in history. We publish more data than ever before on how we spend taxpayer money and we are investing in innovations like our accessible Gist tool to make it more useful. This allows hardworking families to hold us to account, and to see for themselves how the radical reforms we are putting in place across the civil service are eliminating waste and addressing the deficit. Last year, these reforms saved £10bn, or £600 for every working family.
'In support of this, the chancellor has announced a review of financial management across government to improve quality and consistency, including strengthening the role of the head of the government finance profession.'