By Richard Johnstone in Manchester | 2 July 2013
English communities are being denied the public services they deserve due to the way Whitehall allocates and spends taxpayers' money, Local Government Association chair Sir Merrick Cockell said today.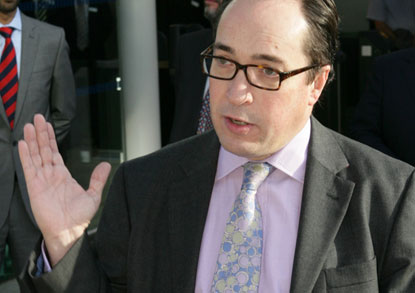 Opening the LGA's annual conference in Manchester today, the leader of local government in England said a radical overhaul of how public money is distributed is needed to deliver a fair deal for English residents. This should include scrapping the Barnett Formula and replacing it with a needs-based assessment of funding.
The LGA  launched its Rewiring public services campaign at the conference, which will set out ten ideas to improve public services, save money and boost growth. These recommendations are the result of the LGA's programme to devise a new model for local government.
Following last week's Spending Review announcement of a further 10% spending cut to local government in 2015/16, Cockell said the controversial Barnett Formula, which allocates spending to the devolved nations, must be abandoned.
The formula has been used since 1978 to allocate public money across the constituent parts of the UK. To ensure relative equity of funding, it increases the money available to the administrations in Scotland, Wales and Northern Ireland when overall public spending in England increases.
However, the LGA says this has resulted in less severe cuts to these parts of the country than councils in England have faced, as Barnett takes account of funding areas protected by Whitehall, such as the NHS and schools. For example, in last week's spending round, devolved administration funding was cut by only 2%.
Scrapping the 'outdated' calculation, which is based on population rather than need, would allow public money to be spent where it is most needed, and could create a 'fair, secure and long-term' funding settlement for local government, Cockell said.
Reform should lead to a new multi-year settlement, tied to the life of the Parliament, to improve financial planning in town halls. A new formula should also be agreed take 'financial distribution out of ministers' hands', he added. Such a funding deal should also include the creation of a municipal bonds agency.
Other reforms proposed by Cockell today included merging six Whitehall departments, including the Department for Communities and Local Government and Department for Transport, into an England Office.
'We want to ensure that all parts of the United Kingdom are equally represented. Funding must be based on need rather than historical precedent and local communities everywhere should have more influence over how public services are paid for, prioritised, and delivered.
'English communities deserve a fair deal. The absence of a secretary of state for England, whose job it is to fight in the Cabinet room on their behalf, means they are currently not getting one. That must be addressed in the next Parliament.' 
Cockell also called for greater devolution of services, saying Whitehall programmes will not be generate local growth and jobs or be able to provide the early intervention needed across a host of public services.
The current centralised approach to spending across the public sector is 'inefficient and unsustainable in the context of long-term cuts to public spending', he said.
'To save the amounts of money austerity requires we must reduce demands on high cost institutions like hospitals, prisons and the welfare system.
'What is needed is the devolution of decision-making to local areas to get government agencies, councils, the police, head teachers and health professionals working together to design services that work for their communities. This will ultimately save money and lead to better services.'