By Mark Smulian | 10 July 2013
Solving the 'jobs puzzle' in the economy is fundamental to understanding how the country can recover, BBC economics editor Stephanie Flanders has told CIPFA's annual conference.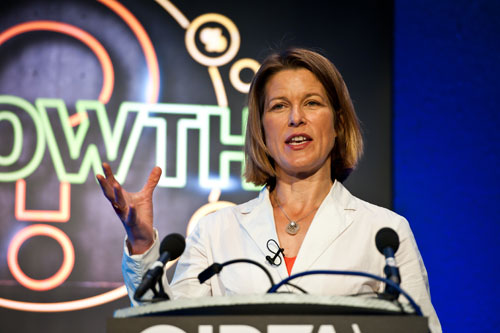 Flanders said that, unlike in past recessions, the close relationship between falling output and job losses had been broken.
This made it hard for economists to tell what spare capacity the economy had, and therefore to what extent it was capable of growth, she explained.
'Gross Domestic Product has gone off a cliff but employment levels have not, and no-one can work out why. It means productivity per head has fallen dramatically.
'Some think this is because the recession hit financial services at the same time that North Sea oil declined and while both are important for GDP, both are relatively small employers.'
The consequence of this is that employees had 'taken the hit', with real weekly earnings down by 8% in five years, she said.
'At some level the pain has been spread more evenly than in the past. In the 1980s a large chunk of people lost their job but never got it back.'
As an example of the 'jobs puzzle', she said that before the recession an estate agent might have sold four to five houses a day without much effort but would now struggle to sell one a week.
'If things improve he does not have to work as hard, so does that mean there is still spare capacity or not?' Flanders asked. 'If more of the economy is like that estate agent now, it might explain the jobs puzzle, and so whether the economy has spare capacity and room to grow.'
Spare capacity could allow the economy to rebalance from a continued over-reliance on the public sector and household spending.
Flanders said she 'hated' the term green shoots, but said tentative signs of growth had been visible for some years.
However, the government's hopes for a recovery led by exports had not been realised. 'It is a recovery but not as we know it and not the one we are hoping for,' she said.
'There are 430,000 more people in work this year than last so there has to be something going on. Things feel a bit different lately. 0.6% growth may be nothing to write home about but it's better than it's been for a couple of years.'
Flanders also welcomed the new Bank of England governor Mark Carney, who has joined from a similar position in Canada.
'It will make a difference that he has not lived here for the last few years with the gradual lowering of expectations that has gone on,' she said.
• Follow all the debates and speakers from the CIPFA conference on Public Finance's live blog.