By Richard Johnstone | 3 May 2013
The Conservatives have lost more than 300 councillors and control of ten authorities in the results following yesterday's local elections, as both Labour and the UK Independence Party have gained seats.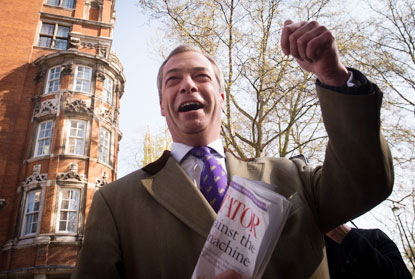 East Sussex, Gloucestershire, Lincolnshire, Lancashire, Norfolk and Warwickshire are among the authorities that have moved from Conservative majorities to no overall control, while Labour has regained Derbyshire and Nottinghamshire.
Before the vote, the Conservatives ran all but one of the 27 counties. Results declared so far show they have held on to 18 authorities, including Dorset, Hertfordshire, Essex, Hampshire and Somerset.
Overall, the party won 1,116 councillors, down 335 from the same seats in 2009, although there have been some boundary changes. Labour have made gains of 291 seats to stand at 538, while the Liberal Democrats have 352 councillors, down 124 from last time. Ukip has 147 councillors based on the latest figures.

Ukip made the biggest gains in Lincolnshire, where it is now the second largest party, with 16 seats. The Conservatives lost 24, and now have 26 councillors, while Labour gained 8 seats taking its total to 12.
In Gloucestershire, Ukip gained three seats, but the Conservatives remain the largest party, with 23 councillors. The Liberal Democrats have 14, Labour has 9, there are 3 independents and 1 Green Party member.
Among other results, Labour's Norma Redfearn has won the North Tyneside mayoral election, taking 55% of the votes at first count, meaning a second round was not needed.
She defeated Conservative incumbent Linda Arkley, who took 36% of the votes.
Labour also won the mayoral contest in Doncaster, where Ros Jones beat incumbent Peter Davies, who was an independent.

The parliamentary by-election held in South Shields following the resignation of David Miliband has been won by Labour candidate Emma Lewell-Buck. Ukip came second ahead of the Conservatives, while the LibDems lost their deposit and finished seventh.
Responding to the results, Conservative Party chair Grant Shapps said that voters had sent a 'very clear simple message that they want to see change in the country to get the economy back on track and make the country work for hardworking people'.
He told the BBC: 'Yesterday wasn't about those issues in a general election, it was about who runs your local council and we have actually topped the polls in the results that have come in so far.'
Ukip leader Nigel Farage said: 'The people who vote for us are rejecting the establishment and quite right too.

'I understand that completely. Three parties, three front benches who look the same and sound the same and made up of people who basically have never had a job in the real world.'

In the runup to the 2015 general election, UKIP was in 'a very strong position', he said, but the party has a 'problem when it comes to a general election' due to the first-past-the-post system.