By Richard Johnstone | 22 February 2013
Local Government Secretary Eric Pickles threatened to force councils to reform pay deals for senior staff as he published updated guidance on town hall transparency.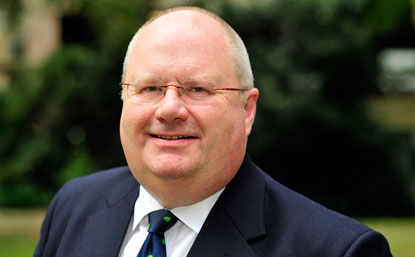 The guidance, sent to every council in England, recommends that large pay-offs to departing senior officers be subject to a full council vote. This follows Pickles' concerns about 'massive' payouts made to chief executives and other senior officers, including finance directors, when they leave authorities.
The Localism Act currently requires council pay policies, including rules on severance deals, to be approved by council votes. Pickles said this had 'increased accountability over local decisions on pay and reward, particularly senior pay'.

However, ministers are concerned town halls have not used the full range of powers to approve individual deals.

The revised guidance will strengthen 'transparency and democratic accountability' as councils prepare to approve their pay practices for the coming financial year, Pickles said.

The Openness and accountability in local pay guidance recommends that all severance packages for senior officers worth more than £100,000 be voted on by the full council.

'Many [people] believe that pay-offs to senior local government staff are excessive and too frequent,' Pickles said.'There is a clear case for going further and ensuring that, as well as approving their authority's policy on severance, members are able to consider each time it is proposed to spend local taxpayers' money on a large pay-off.'
The guidance also states that councillors should be given the opportunity to vote on salary packages of £100,000 or more, which the Department for Communities and Local Government said was not clear in 2012/13 pay policies.
Councils are required only to take the guidance 'into account', but Pickles said in his letter that if councils do not act, he is ready to take steps to require them to, which could include legislation. 'If it appears that authorities are not following specific aspects of this guidance – and are therefore not achieving appropriate levels of openness and accountability in the setting of policies on pay and reward – I may take steps to require authorities to adopt particular policies.'
He also confirmed that he would introduce reforms so that decisions to dismiss council chief executives and finance directors no longer had to be subject to independent review. This follows a consultation on the issue held last year. If councils wish to dismiss a senior officer, they will now only be required to get a resolution from the full council.
Responding to the guidance yesterday, the Local Government Association said that councils 'already had a high level of democratic oversight and accountability for decisions on senior pay and severance packages'.
Sir Steve Bullock, chair of the LGA's workforce board, said: 'In local government we have embraced transparency to a degree not matched in other parts of the public sector. Councils already publish details of all posts paying more than £58,200 per year.
'Overall we are seeing a downward trend in senior pay as councillors tighten spending, with a reduction in the number of middle and senior managers providing a 12.5% cut in overall management costs between 2011 and 2012.'