By Vivienne Russell | 19 November 2012
Wales should be given enhanced tax-raising and borrowing powers, according to 'significant and historic' proposals published today by a government-appointed commission.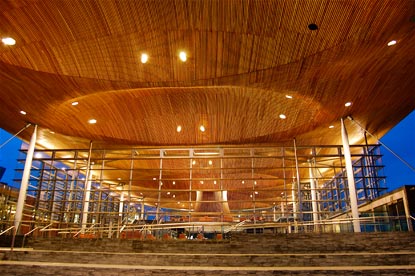 The Commission on Devolution in Wales makes 33 suggestions to increase the financial accountability of the National Assembly for Wales and make it responsible for determining a proportion of its own budget. If the proposals were implemented, around a quarter of devolved spending in Wales would be determined by taxes decided in Wales.
Smaller yielding taxes, such as landfill tax and stamp duty land tax, and business rates should be devolved, the commission says. Responsibility for income tax should be shared between Cardiff and Westminster, with the Welsh Government able to vary income tax rates within the UK structure. However, these powers should be devolved only following a referendum, says the report, Empowerment and responsibility: financial powers to strengthen Wales.
The commission recommends that corporation tax should not be devolved unless it is also devolved to Scotland and Northern Ireland.
Wales should be given borrowing powers for investment in infrastructure and to fund current spending so that variation in tax revenue can be managed. These powers should be subject to prudent limits agreed with the Treasury.
Commission chair Paul Silk said he and his fellow commissioners all 'firmly' believed the recommendations would strengthen both Welsh democracy and the country's economy.
He said: 'Our proposals would provide the Welsh Government with an important set of fiscal levers and would enable political parties in Wales to offer people real fiscal choices.
'What we are recommending is significant and historic. It will give Wales its own tax and borrowing system for the first time. The commission is delighted to present our agreed report to the UK government and we hope for speedy implementation.'
Responding to the report's recommendations, Welsh First Minister Carwyn Jones said: 'This report includes some very important recommendations that representatives from all four political parties have been able to agree on and which fit well with our views on the future path of financial reform
'I am particularly pleased that the commission has endorsed devolution of borrowing powers to help finance investment – this is essential if we are to be given the tools to boost the economy in Wales. I also welcome the proposal for Wales to gain control over certain taxes such as stamp duty, which could give us a new lever to support economic growth.'      
Chief Secretary to the Treasury Danny Alexander thanked the commission for their 'expertise and rigour'.
He added: 'I look forward to reviewing the commission's recommendations and working with the Welsh Government and all parties in the Welsh Assembly to deliver an ambitious outcome that best meets the needs of the people of Wales.'
Welsh Secretary David Jones said he would consider the report's recommendations and respond formally in due course.