By Richard Johnstone | 8 November 2012
New Audit Commission chair Jeremy Newman has warned that reforms to local government finance could increase the risk of fraud to town halls.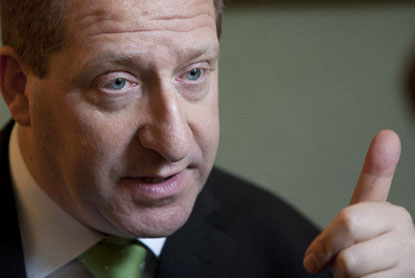 Last year, councils detected more than 124,000 cases of fraud, worth a total of £179m, according to the commission's annual report,
Protecting the public purse
, published today.
But Newman warned that new threats were emerging. These include the areas of business rates, which are set to be part-localised to councils from next April, right to buy housing sale discounts, and procurement, he told Public Finance.
Today's report concluded that councils were targeting their investigative resources efficiently and effectively to reduce fraud. Last year, 3,000 more cases were detected compared with 2010/11.
Total fraud in local government is estimated to be more than £2.2bn annually. The single largest area of loss is housing tenancy fraud, including unlawful sub-letting of council homes, which is estimated to cost councils £900m a year. Last year, councils recovered almost 1,800 homes that were being occupied illegally, which would have had a total replacement value of almost £264m.
Other areas tackled in 2011/12 include almost £21m of false claims for council tax discounts. Fraudsters also targeted councils' purchasing of goods and services, with 187 cases of procurement fraud uncovered, worth more than £8m to the public purse.
Newman urged authorities to be alert to a range of new threats, such as the evidence of increasing fraudulent misuse of business rate relief. He added the sluggish economy also increased risk.
'It's probably more of everything, sadly. Housing tenancy is the single largest area, council tax fraud is also quite large and we are seeing new forms coming along ­– procurement fraud areas, business rates and right to buy.'
Authorities should have 'prevention of fraud and detection high up in their agenda, and have a culture that doesn't seek to ignore difficult information but deal with it', he said.
The report also urged the government to ensure that the regulations to localise business rate from April 2013 supported councils seeking to tackle evasion of business rates.
Councils are currently given information on possible cases of fraud by the commission's National Fraud Initiative, which has statutory powers to highlight anomalies in various claims by the forensic matching of data sets. Mismatches can indicate human error, but often provide clues to potential frauds worth investigating.
Any information provided to the council that 'doesn't make sense' can then be investigated, Newman said.
He revealed he has held talks with the Department for Communities and Local Government since his appointment last month regarding who will take over this initiative once the commission is disbanded by April 2015.
Following the completion of the outsourcing programme for public audit, discussions about where 'the other functions get placed' are ongoing, he said.
'The transfer of audit practice to the audit firms took place on October 31. The commission has now outsourced all of the audit work and we will be monitoring that to ensure that undertaken to high standards.
'Other things, like the Protecting the Public Purse report, we are having discussions with a number of potential homes for it. I think it's important that whoever takes responsibility for the data protection work does this report as well. I haven't completed my initial conversations, but I do think it's part of my job to ensure that the work the Audit Commission does doesn't fall through the cracks, and that includes Protecting the public purse.'
Responding to the report, the Local Government Association said that councils were 'reeling in more cheats than ever before'.
Peter Fleming, chair of the LGA's improvement and innovation board, added: 'It's vitally important that every penny of public money is properly accounted for and local government is determined to stamp out fraudulent behaviour.'