By Richard Johnstone | 31 October 2012
All two-tier local authority areas in England should become unitaries, former deputy prime minister Lord Heseltine said today in his wide-ranging review of the UK's growth policy.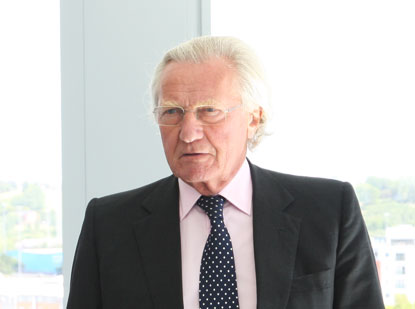 Heseltine's long-awaited report called on the government to 'remove legislative barriers that are preventing local authorities from collaborating… including moving to unitary status'.
The review, commissioned by Chancellor George Osborne in the Budget in March, also said all councillors should be elected using the same four-year electoral cycle. A staggered approach to council elections can create barriers to economic decision-making, he concluded.

There also needed to be 'a new partnership between the private and public sectors, between local communities and central government' to boost economic growth.
Today's report, No stone unturned in pursuit of growth, makes a total of 89 recommendations to government. At the launch, Heseltine said: 'Only in this way will we get the best use of our limited public funds and leverage in private investment.
'What I have outlined today points the way towards prosperity. We will not just need the determination of government, but of every business, every local leader and every individual to deliver this vision.'
Other recommendations include a call for ministers to set out a comprehensive national growth strategy that defines the roles of central and local government.
A National Growth Council, chaired by the prime minister, should be formed, holding each Whitehall department to account for its role in support of the strategy.
The report also urges the government to devolve 'significant' amounts of central government spending on skills, infrastructure, housing and regeneration, totalling around £49bn, to local authorities and LEPs in the next Spending Review. This would help tailor investment in economic development to local challenges. '
Heseltine said local government had been 'disempowered' by a century of centralising power, and 'the English system of local government remains overly complex and inefficient'.
The report states: 'England has 353 principal authorities. Some of these are single unitary authorities, others operate in tiers of district and county councils. The number of different councils doing similar things remains costly and confusing. For many, the range of different systems is baffling too.
'In addition, the boundaries of many English local authorities bear no relation to modern patterns of economic activity – they are not functional economic market areas.'
Proposals to move to unitary or combined authority models would help match municipal boundaries to economic areas, and 'all English local authorities outside London should pursue a path towards unitary status'.
The coalition government halted plans for new unitary authorities in Exeter, Norwich and Suffolk when taking power, through the Local Government Act 2010.
However, Heseltine said this should be repealed to 'remove all legislative barriers that are preventing local authorities from collaborating within functional economic market areas'.
Government should also legislate to make it easier for 'combinations of authorities' to elect conurbation mayors.
Responding to the report, Osborne said he had 'wanted Lord Heseltine to do what he does best: challenge received wisdom and give us ideas on how to bring government and industry together'.
He added: 'He has done exactly that. This is a report bursting with ideas and we will study it very carefully.'
Local Government Association chair Sir Merrick Cockell said Heseltine was 'absolutely right to champion the role of local areas in delivering growth'. However, the call for structural reform of local government was 'moot' as the government had already ruled out reforms.
'This report provides clear evidence that giving local areas more power and funding to nurture business opportunities is absolutely essential to national economic recovery,' Cockell added.
'We endorse Lord Heseltine's idea of bringing money from different Whitehall departments into a single pot to fund skills, transport and support for SMEs. Local economies are complex and national funding streams are not always as co-ordinated, flexible and responsive as we need them to be in order to get projects off the ground in good time.'