By Richard Johnstone | 29 October 2012
Twenty English cities have been invited to bid for a host of powers in the second round of the government's City Deals programme.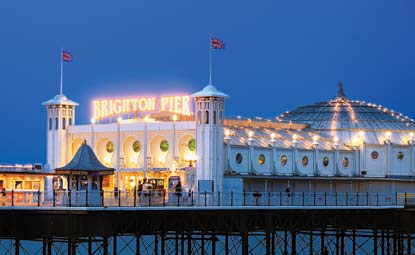 Deputy Prime Minister Nick Clegg and cities minister Greg Clark revealed today that the cities, which include Cambridge, Brighton and Preston, would need to 'compete' to reach an agreement with Whitehall. But unlike the first wave of City Deals not all will be guaranteed a deal. Only the proposals that will make the biggest difference will be approved, Clark told Public Finance.
The 'wave 2' areas include the 14 next largest conurbations after London and the eight original cities and the six with the highest population growth between 2001 and 2010. They will have to submit their decentralisation plans by January 15.
Clark told PF that only the most 'transformational' proposals would then go ahead to full negotiations. Each individual proposal that is agreed will also include a 'core package' of measures that will include significant powers devolved from Whitehall.
The deals should be agreed before next November, but Clark would like them to be concluded as soon as possible.
Among the criteria they will be judged on is how they would create 'stronger governance across their functional economic area, so decisions necessary for the growth of an area can be taken quickly and effectively'. Areas will also have to demonstrate a 'readiness to put resources into delivering a deal', as well as outlining 'proposals for harnessing significantly greater private sector input'.
Clark said these were the 'expectations' on the government's side. He added:
'We are looking for the opportunity to make transformational change so the criteria is those that make the biggest difference economically.
'We are looking to reinforce the impact of the leadership on the economic growth of an area. Sometimes we have administrative boundaries that carve up an economic area. We want neighbours to work closely together and not get bogged down in territorial disputes, that's one thing we will look at.'
Among the first round of City Deals, Liverpool adopted a mayoral structurebefore the agreement was reached. Clark said governance arrangements were 'important' in the next round, but he would not be 'specifying what that has to be'.
Although the range of powers devolved in the first round of agreements were 'in the public domain', Clark also said he wants the next round to contain new ideas. 'I would hope they won't simply copy what's been done in other places, but rather emulate the ambition that the other cities have demonstrated and think about what will suit that local area, rather than choosing off the shelf.'
Clegg said he wanted the bidders 'to come up with ambitious and innovative proposals to help them make changes that will be felt by everyone across their region'.
He added: 'In the best English tradition we have witnessed a quiet revolution across the nation's eight largest cities.
'From control over buses and trains and the freedom to plug skills gaps, to powers to "earn back" tax and set up local investment funds to spend on local projects – the deals are unlocking the huge potential of our cities so they can go for growth. Now it's time to free even more places from Whitehall control.'
The areas invited to bid are: the Black Country; Bournemouth; Brighton and Hove; Greater Cambridge; Coventry and Warwickshire; Hull and Humber; Ipswich; Leicester and Leicestershire; Milton Keynes; Greater Norwich; Oxford and Central Oxfordshire; Reading; Plymouth; Preston and Lancashire; Southampton and Portsmouth; Southend; Stoke and Staffordshire; Sunderland and the North East; Swindon and Wiltshire; and Tees Valley.