By Richard Johnstone in Manchester | 1 October 2012
Shadow chancellor Ed Balls today called on the government to use the £4bn windfall from the sale of the next generation of mobile phone licences to build 100,000 new homes.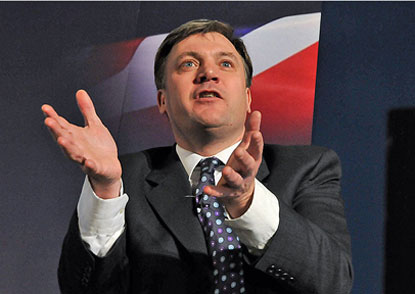 Balls told the Labour Party conference that this use of the expected returns from selling the 4G mobile phone spectrum should be part of 'a clear and costed plan to kick-start the economy and get people back to work'. Funding could also be found from the revenue to provide a stamp duty holiday for first-time home buyers. 
In his keynote speech Balls again stated that the next Labour administration would not reverse all of the coalition's spending cuts. But he also called for cross-party agreement on both future infrastructure developments and reforms to adult social care.
Governments needed to stop avoiding the 'hard long-term issues we know we haven't properly faced up to and which transcend parties and Parliaments and where we badly need a cross-party consensus', he said.
Admitting that 'successive governments – including our own – have ducked or delayed vital decisions on our national infrastructure', Balls announced the creation of a commission to build the case for national developments.
Sir John Armitt, who chaired the Olympic Delivery Authority, has been asked by Balls and Labour leader Ed Miliband 'to consider how long-term infrastructure decision-making, planning, delivery and finance can be radically improved'. Among the issues that will be examined are the rollout of high-speed broadband across the whole of the UK and the nation's future energy needs.
Armitt will now 'draw up plans for a commission or process, independent of government, that can assess and make proposals on the long-term infrastructure needs of our country over the coming decades and help build that consensus', Balls said.
Balls also revealed that the next Labour manifesto would outline a new set of fiscal rules for the next administration that would be monitored by the independent Office for Budget Responsibility.
He told delegates that 'under Labour there would have been cuts' and 'fiscal responsibility is in the national interest', adding that the next Labour government would not 'flinch' from difficult decisions on spending. Its first Spending Review would be a 'zero-based' examination of government spending, where all spending is decided from scratch. This is in contrast to the current incremental reviews, where it is decided how much each Whitehall department's spending will change from the current baseline. Such a review would 'carefully look at what the government can and cannot afford, rooting out waste and boosting productivity'.
Responding to Balls' speech, CBI director general John Cridland backed the emphasis on new housing.
He added: 'The CBI welcomes more action on housing investment, which would give a much-needed boost to growth. But such action must complement continued efforts to reduce the deficit. The two must go together, it cannot be an either/or.'