By Richard Johnstone | 10 September 2012
Chief Secretary to the Treasury Danny Alexander has confirmed that UK pension funds will begin to invest in new infrastructure from next year.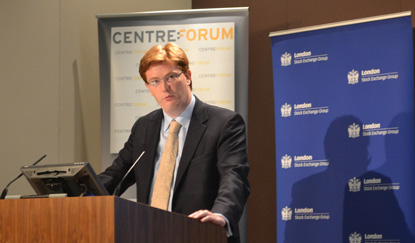 Speaking to the London Stock Exchange today, Alexander said a 'platform' allowing funds to invest around £2bn would be launched next January. Seven funds have already committed to help set it up.
The new pension infrastructure investment platform, which we are establishing with the National Association of Pension Funds and the Pension Protection Fund, will 'allow UK pension funds to invest directly in UK infrastructure assets and projects in a new and more efficient way,' Alexander said.
'We have now obtained written commitments from seven UK pension funds to fund start up costs, and soft commitments for initial capital allocations. We expect the platform to raise its expected £2bn by January to start investing in UK infrastructure projects.'
Proposals to increase pension funds' investment in infrastructure were first announced in last year's Autumn Statement. Alexander said the role of infrastructure in achieving growth could 'not be overstated', and that 'delivering sustainable and balance growth' required addressing 'some long-standing weaknesses in the quality of some of our infrastructure'.
The government's National Infrastructure Plan has outlined its priority projects, but its 'most remarkable' challenge is attracting the necessary investment, Alexander told the CentreForum event.
More than £200bn of infrastructure investment is required in the next five years alone. 'That is no easy task, and not one that will resolve itself,' he added, with government action needed to facilitate investment.
He also confirmed that the Treasury's review of the much-maligned Private Finance Initiative would report in the autumn. The review, launched last November, aims to create a funding model that 'is less expensive and that uses private sector innovation to deliver services more cost effectively [and] can access a wider range of financing sources'.
Alexander said that in the past the deals had been 'less than perfect'. The review would 'ensure long-term value for the taxpayer' for future deals.
He also confirmed that the government would publish proposals to increase private investment in the English road network 'later this year'.
In March, Prime Minister David Cameron called for greater investment from the private sector in the road network.
Alexander said the government was looking at whether the roads could form a 'regulatory asset base' that could be used to expand private investment in roads.
'Investors are queuing up for utility assets to invest in with guaranteed returns over long periods, and we hope to be able to unlock some of that investment to good effect,' he added.
'That rise in investment could bring England's roads up to the quality of the best in Europe, reducing congestion and travel time on key routes by expanding hard shoulder running schemes, dualling existing A-roads and adding lanes to existing motorways. Over the longer term, it could be used for new routes too.'