By Richard Johnstone | 31 August 2012


The Treasury has been criticised for failing to provide funding for a cross-government initiative to make more efficient use of the public sector estate.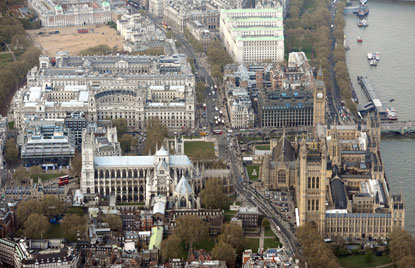 MPs on the Public Accounts Committee today said central government could save an additional £800m by 2020 if it made better use of office property. The estate currently comprises over 5 million square metres of space and costs around £1.8bn annually to run.


Despite annual savings of £100m, the use of space across government is still relatively inefficient compared to the private sector, the PAC's Improving the efficiency of central government office property report concluded.
MPs highlighted that the Government Property Unit, established by the Cabinet Office in 2010 to find efficiency savings, has been unable to win Treasury support for its plans to centralise control of the office estate.
Departments still operate in 'financial silos' that do not encourage them to work together in a way that would benefit the Exchequer as a whole, the report concluded. This means the costs and risks of space sharing can fall prohibitively to one department unless arrangements to share costs can be agreed, and relatively few have been reached.
To make it in departments' interests to work together, the unit needs the support of the Treasury. However, the Treasury has 'so far been far too passive in waiting for others to propose a solution', the PAC said.
Until departments see property as a cost rather than an asset, these vast potential savings will not be realised, chair Margaret Hodge said.
She said the chance of this being achieved 'will depend on the management of the estate being much more tightly controlled from the centre rather than leaving individual departments to their own devices'.
James Grierson, head of public sector at real estate advisor DTZ, told Public Finance that an additional £800m of savings was 'theoretically possible'.
He added: 'Broadly speaking, the central estate is about twice as big as it needs to be.'
However, he agreed with the PAC, saying that, if there is 'a villain of the piece', stopping rationalisation, 'it is the Treasury'.
'The major problem is the intransigence of the Treasury, who effectively say, "we are not making any money available", so any savings have to be agreed through bilateral negotiations with departments. The Treasury kind of washed their hands of it.'
Grierson said this lack of 'seed funding' means, for example, that a department moving into a bigger, shared property with another ministry may have to find funds for the upfront alterations from their own budgets.
'It's about the Treasury making that sensible,' Grierson said. 'The idea that departments have to sell property, without government noticing, to then pursue efficiencies isn't very sensible.'
Responding to the report, a spokeswoman for the Cabinet Office said that the government would 'consider all of the PAC's recommendations carefully'.
She added: 'Taxpayers should not foot the bill for unnecessary property.

'We want to go further to find savings and to make more innovative, strategic use of public property. We have also identified empty office spaces which will be offered to small and medium enterprises, and are exploring how others could be used for free schools.'
A Treasury spokesman said they would not add to the Cabinet Office statement.