By
Vivienne Russell
| 27 July 2012
The £1.25bn of funding being channelled through the pupil premium is not necessarily going to be well spent, both the Sutton Trust education charity and Ofsted have warned.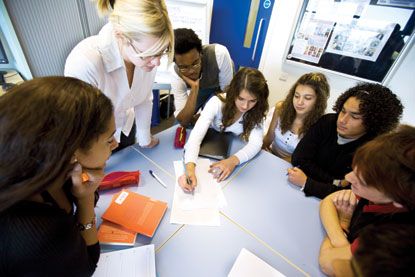 In a survey of teachers, published by the trust today, fewer than 3% said the cash would be spent on what the charity deems to be the most cost-effective classroom approaches. These include providing pupils with effective feedback on their performance and enabling them to help their peers.
Instead, the most frequently cited priorities for the cash were early intervention schemes, smaller classes, more one-to-one tuition and additional teaching assistants.
A quarter of teachers (28%) did not know how their school was going to spend the money.
The survey asked 1,700 primary and secondary teachers how their schools intended to spend the pupil premium, which gives an extra £600 for each pupil eligible for free school meals.
Sir Peter Lampl, chair of the Sutton Trust, said: 'If the billions of pounds allocated through the pupil premium are to genuinely help improve the results of poorer children, then we need to ensure that teachers receive the best guidance on what works in the classroom.'
Commenting on the findings, Ofsted head Sir Michael Wilshaw said: 'It is critical that the pupil premium is spent in a way which maximises the chances to improve education for the pupils who need it the most.'
The inspectorate had conducted a comprehensive analysis of how the pupil premium was being spent, due for publication in September, he added.
'Early indications show that this is an even bigger problem than the Sutton Trust survey indicates.'
The trust has produced a guide on the most effective learning strategies, based on thousands of research studies. It concludes that small reductions in class sizes and recruiting extra teaching assistants have unclear or over-modest effects on pupils' attainment levels.
Just over a third of the teachers surveyed (36%) said their school had considered published evidence on the impact of different teaching approaches.
But the report said large numbers of teachers used informal methods of evaluating teaching methods, including trial-and-error and seeing what worked in other schools.
'While a large proportion of teachers believed that decisions in their school are based on research evidence, it is unclear what evidence they are using,' it said.
However, head teachers said it was 'dangerous' to draw conclusions from a survey of teachers, most of whom had not been involved in strategic decision-making.

'Leadership teams and governing bodies are the ones that make decisions about how resources are deployed,' said Malcolm Trobe, deputy general secretary of the Association of Teachers and Lecturers.

'There is a huge commitment from school leaders to ensure that the pupil premium funding is spent wisely to raise the attainment of disadvantaged students.'

Trobe added that an accurate picture of the impact of the pupil premium would emerge in the autumn once schools had published details on how they were spending the money.