By Vivienne Russell in Liverpool | 4 July 2012
The quality of government reporting, auditing and financial management is the biggest challenge facing the public finance profession right now, the new CIPFA president told the conference this morning.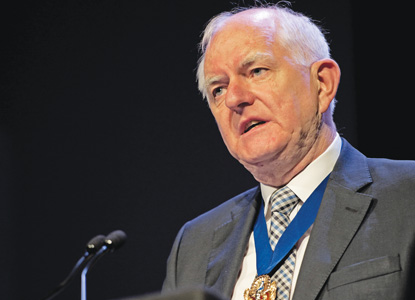 Sir Tony Redmond used his opening address to set out the economic and financial challenges facing public sector accountants both domestically and internationally. Rather than 'one Parliament of pain', Redmond noted that public spending cuts could continue until 2020, while in Europe the situation was bleaker still, with the sovereign debt crisis resulting in 'devastating consequences' for countries such as Ireland, Portugal, Spain and Greece.
He cited historian Niall Ferguson's recent observation that the present system of government accounting is, in many cases, 'fraudulent', with no regularly published and accurate balance sheets and huge liabilities hidden from view. These were precisely the issues CIPFA has been highlighting in its Fixing the Foundations initiative, which launched in Berlin last year.
Redmond told delegates: 'If we are to find a way of this crisis, and avoid similar events in the future, we have to ask what can we do collectively to accelerate the improvement of better accounting and audit in governments? How can we make a real impact to drive up standards and provide more resilient public finances and ultimately provide better government in the public interest?'
He said the present crisis provided CIPFA members with a 'great opportunity' to show leadership and demonstrate that good financial management matters to both government and citizens.
'The biggest challenges facing the finance profession right now is the quality of government reporting, auditing and financial management. It is also a critical issue in light of the current crisis and it is a critical issue in creating the conditions for stability, growth and the re-establishment of confidence in government finance.'
CIPFA, he said, was committed to bringing about a 'step change' in financial management, with a shift from cash to accrual accounting, the implementation of more modern accounting standards and a suite of global professional qualifications.
Redmond concluded with a call to action, urging delegates not to leave the country to 'managed decline'.
'Will this be a time when our public finance leaders rally together looking for constructive, intelligent and innovative solutions to not just maintain but improve public services?
'Will we show resilience, ingenuity and adaptability and prove that the public sector can emerge from this downturn stronger, fitter, more efficient and better able to cope with future challenges? I think we can and I think we must.'