By Nick Mann and Judy Hirst in Liverpool | 5 July 2012
Barclays is unlikely to have acted alone in its manipulation of the London Interbank Offered Rate and there is 'a lot more to come', according to the former deputy governor of the Bank of England, Sir John Gieve.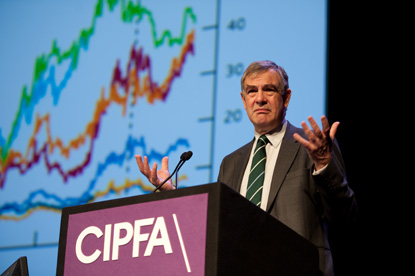 Speaking to Public Finance at the CIPFA conference in Liverpool, Gieve said the revelation that Barclays and other banks had been trying to 'fiddle' the rate used by banks to borrow from each other was 'very dismaying'.
'It's quite obscure but it goes to the culture of that part of the banking industry and clearly we need a lot of reform,' he said.
'We haven't heard half of the story yet,' he added. 'Barclays was the first bank to settle but actually a lot of these stories don't make sense unless they, or their traders, were acting in concert with other banks, so we've got a lot more to come.'
During his speech at conference, Gieve said that despite justified 'doom and gloom' about the economic situation there were reasons not to despair yet.
The sub-prime crisis was over, the US and UK banking systems were stronger than in 2008 when the global economic crisis hit and the world economy was recovering, with particularly strong growth in the developing world.
He also pointed to an improving situation in Europe. 'In the last two months things have changed for the better in the eurozone,' he said. 'Refusenik' movements are yet to take off, and the European Central Bank has 'stepped forward' to provide banks with money.
The 'hugely significant' steps taken towards creating a banking union at the last European Council meeting had also removed a major barrier to future prosperity for Spain and Ireland, he added.
For the UK economy, he said the recovery had been 'postponed' but there were reasons to think it could begin in the near future.
'The economy has been stagnant for between 18 months and two years but I'm expecting it to begin to recover quite slowly and gradually over the next year or 18 months,' he told PF.
Earlier today, economist Jonathan Portes told conference that the government had finally started to see sense by increasing borrowing to boost growth.
Portes, who is director of the National Institute of Economic and Social Research, said: 'The markets are telling us to borrow and spend more. Now even the government seems to get it. That's essentially what it's doing with its boosts for infrastructure and housing.'
Nevertheless, the coalition had wasted 18 months by sticking to emergency deficit-cutting policies based on 'irresponsible, scaremongering', he said. 'Credibility with the markets is important. But you don't get credibility by sticking to a plan that isn't working.'
The length of time the UK had suffered depressed output was historically unprecedented, he argued: 'Talking about a double-dip recession is just silly. The economy has been consistently flat-lining.'
But taking a longer view, the UK's per capita GDP growth had been successful in recent decades. However, 'truly incompetent' macro-economic policies had undermined this.
Current government policy was now 'not far away from being sensible', said Portes. 'The problem is that the people running things don't understand what is going on.'