By Nick Mann | 21 March 2012
The government will work with cities to devolve decision-making powers and encourage the private sector in areas where the public sector dominates the economy, Chancellor George Osborne said today.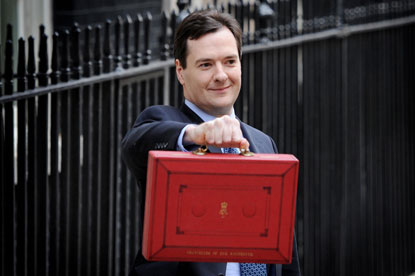 In a Budget speech that he said 'unashamedly' backed business and growth, he confirmed plans for a £1.2bn city deal with Manchester to support 'growth-enhancing infrastructure'. This follows the announcement of a similar agreement with Liverpool in January.
The government will also support £150m of Tax Increment Financing to help councils promote development, he said, as well as providing an extra £270m to the Growing Places fund, which aims to enable local economic growth. London Mayor Boris Johnson will use his Growing Places allocation to create a £70m development fund for the capital, Osborne added.
'In all this, we are working with local areas to support their ideas for growing the private sector in parts of the country where the state has taken a larger and larger share of the economy,' Osborne said.
Michael Heseltine, the former Conservative deputy prime minister, is to review how Whitehall departments and other bodies can work better with the private sector on economic development. He will report by autumn. 'From Liverpool to Canary Wharf, Michael knows how it's done,' Osborne said.
He described as 'unacceptable' the impact that the planning system was having on investments that would have created hundreds of jobs in some of the most deprived communities in Britain but had instead been diverted to countries such as Germany and the Netherlands.
Osborne revealed that Communities Secretary Eric Pickles would be publishing the results of the government's overhaul of the planning system next week. This would be the 'biggest reduction in business red tape ever undertaken', he said.
'We're replacing 1,000 pages of guidance with just 50 pages. We're introducing a presumption in favour of sustainable development while protecting our most precious environments.
'The new policy comes into effect when the National Planning Policy Framework is published next Tuesday.'
Osborne also emphasised the importance of attracting investment in infrastructure. The government was 'actively seeking' investment from overseas pension and sovereign wealth funds, he said. It was also working with a dozen of the largest UK pension funds to encourage them to invest in infrastructure.
He added: 'We're the first British government to set out in a National Infrastructure Plan the projects we are going to prioritise in the coming decade. The roads, railways, clean energy and water, and broadband networks we need are all identified.'
'Government thinking' on addressing a lack of airport capacity in the Southeast will be set out this autumn, he added.
Labelling corporation tax 'the most visible sign' of how competitive the UK is, the chancellor said the tax would be cut by a further 1% immediately. This means it will fall to 24% next month, and not 25% as previously planned. Two further planned cuts mean that by 2014 it will be 22%.
This, Osborne said, was 'the biggest sustained reduction in business tax rates for a generation'.
'A headline rate that is not just lower than our competitors, but dramatically lower - 18% lower than the US, 16% lower than Japan, 12% below France and 8% below Germany. An advertisement for investment and jobs in Britain,' he said.