By Richard Johnstone | 29 March 2012
The ten councils with the largest number of troubled families in England have agreed to join a government scheme that will pay them up to £4,000 for each problem household they help.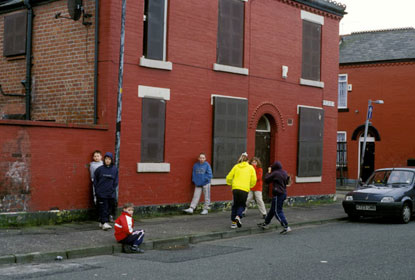 Communities Secretary Eric Pickles confirmed yesterday that the ten had signed up to the government's payment-by-results programme, which aims to get members of troubled families into work and education and reduce antisocial behaviour.
Pickles said Whitehall would support the local authorities to help these families tackle the causes of their problems. But the detailed funding guidance confirms that the councils will be responsible for all of the upfront payments. They will be paid by Whitehall only once they have reduced the £75,000 costs of each family to the taxpayer.
The £450m cross-government initiative was announced by Prime Minister David Cameron last December. He wants 120,000 families to have their lives turned around by 2015. Under the plans, these families would have all their needs assessed together, rather than by different agencies, to ensure they receive the support they need to change their lifestyle.
Around 24,000 of the families being targeted live in the first ten top-tier authorities selected for the plan. The authorities are: Birmingham, Lancashire, Kent, Manchester, Essex, Leeds, Liverpool, Bradford, Norfolk and Sheffield. The Department for Communities and Local Government said that 'many more' councils were expected to join soon.
The councils will be given the maximum £4,000 if four criteria are met.
They will receive £3,900 if children's school attendance is above 85%, there is a 60% reduction in instances of antisocial behaviour across the whole family and a 33% reduction in youth offending. The last £100 will be paid if one adult in the family moves into work or progress towards this, such as enrolment in the Work Programme, is made.
Even if these criteria are all met, authorities are still likely to pay £6,000 of the average £10,000 cost of a successful family intervention.
Pickles also announced that the Department for Work and Pensions has agreed to allow job centres to share data with local councils to find their troubled families. Identifying them beyond indicative estimates was the first task set for councils last year, and they will now be able to use this information, alongside school attendance and crime figures, to do so.
'It is great news that the top ten councils with the most troubled families have already agreed to begin work with us, as between them they cover a fifth of the families we have pledged to change,' Pickles said.
'We cannot afford to wait any longer to start doing this work and I am delighted that it will now begin.'
Louise Casey, head of the government's troubled families unit, added: 'Both local and central government recognise this programme could be a once-in-a-lifetime opportunity to shift the sense of hopelessness that is often felt about these families. 
'If we work together and get this right, it's also a chance to make a cultural shift in the way services are delivered by professionals – an approach that is about a lead worker gripping a family as a whole and getting to the root causes of their problems.'
The Local Government Association said councils would work closely with police, health services and job centres to achieve the plans, but added that these agencies would need to 'put money into this too'.
Chair Sir Merrick Cockell said: 'Councils have been co-ordinating services locally to help troubled families turn their lives around since before the creation of this national programme. We know that this approach gets better results and can cost less to the taxpayer in the long run.
'The success of this schemes – and the savings it would lead to in policing, welfare and health budgets – will be dependent on all parts of the public sector playing their part.'