By Richard Johnstone | 19 March 2012
Private finance, including pension funds, should be used to upgrade and maintain major roads in England, David Cameron said today.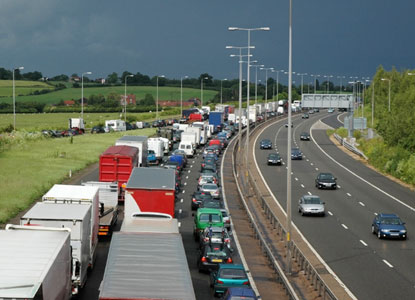 In a speech to the Institution of Civil Engineers, the prime minister announced a study into how private cash could help tackle what he called 'decades-long degradation' in the nation's infrastructure.


This will include examining the possibility of companies taking over operation of parts of the main trunk road network, with payment based on improvements and usage.
Outside investment could be used to 'widen pinch points, add lanes to motorways by using the hard shoulder to increase capacity' and turn overcrowded A-roads into dual carriageways, Cameron said.
An 'innovative' approach to raising cash is needed when government funding is constrained, he added.
'Why is it that other infrastructure – for example, water – is funded by private sector capital through privately owned, independently regulated utilities... but roads in Britain call on the public finances for funding?
'We need to look urgently at the options for getting large-scale private investment into the national roads network – from sovereign wealth funds, pension funds, and other investors.'
A feasibility study will now be undertaken by the Department for Transport and Treasury, reporting in the autumn.
A DfT spokesman told Public Finance this would look at a number of options, including turning the Highways Agency into regional units, which could then be taken over by firms that would maintain them and invest in improvements.
They would then be paid part of the taxes taken from motorists, most likely Vehicle Excise Duty, based on the number of cars that use the roads.
This is a system known as shadow tolling.
Directly charging motorists through road tolls is not being considered for existing roads, but Cameron today reitereated that they could be introduced for new roads.
Business lobby the CBI welcomed the move, saying it backed its calls for the government to attract investment into ageing infrastructure.
Director general John Cridland said: 'Congestion on our roads costs the UK economy up to £8bn a year, so the prime minister's ambition to get much-needed private investment into the strategic network could not have come at a better time. Every £1 spent on infrastructure adds £3 to the economy as a whole.
'In the short term, we need contracts to be agreed with companies to maintain our roads and repair the potholes. In the longer-term, investor confidence will be critical to injecting new money into removing bottlenecks, reducing commuting times and helping firms to transport their goods.'
However, transport pressure group Campaign for Better Transport said that new toll roads would not lead to better infrastructure for motorists.
Chief executive Stephen Joseph said: 'New roads just fill up with traffic no matter whether they're financed by the Chinese, a pension fund or from public spending.
'What we really need to tackle congestion is investment in better public transport, rail freight and helping employers with initiatives like car sharing. 
'These plans make no sense whether you're a motorist facing the prospect of tolls, or an environmentalist concerned about the impact of new road building on carbon [emissions] or the countryside.'