By Nick Mann | 11 January 2012
The Public and Commercial Services union today confirmed its rejection of the government's pension reform offer and threatened legal action if it is excluded from future negotiations.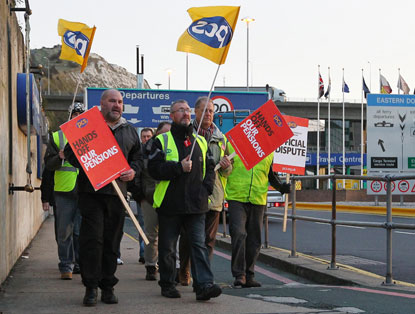 The civil service union's national executive committee also repeated its threat to stage further industrial action over the proposals.
Today's decision follows the PCS's initial rejection of the government's revised deal on pensions reform before Christmas, offered after the November 30 strike by public sector unions. Unite and two teaching unions have also rejected the deal.
According to the PCS, the proposals currently on the table would involve employee contributions rising from April, people having to work up to eight years longer and a 15%–20% cut in the value of pensions.
PCS general secretary Mark Serwotka said: 'From the very start ministers have quite obviously tried to suffocate the pensions talks, to bully and mislead, and to impose their will on millions of civil servants, teachers, council staff and health workers.
'We have consistently called for proper negotiations on the key issues of paying more and working longer for less, but the government has refused at every point, leaving us with no choice but to oppose what is nothing more than a political attempt to make the least culpable pay the highest price for the failings of the banks.'
The union's executive will now meet on January 19 to consider the positions of the other public sector unions, which will be reported at a meeting of the Trades Union Congress' public sector group tomorrow.
Serwotka said that with no 'significant movement' since the November 30 strikes, next week's meeting would also consider the possibility of further industrial action.
'We have told ministers we expect to be included in any future discussions. But we are clear that, with no significant movement since 2 million public servants took strike action together on 30 November, further co-ordinated industrial action will be necessary to stop these unfair and entirely unnecessary plans,' he added.

The Unite union also announced today that its members in central government had turned down the deal.
The union's Ministry of Defence and government departments' national industrial sector committee unanimously rejected the outline offer. The committees representing health and local government workers have already turned it down.

Unite general secretary Len McCluskey said: 'It is clear from the decisions of the three executive committees representing our public sector members that the current proposals are unfair.'