By Nick Mann | 21 December 2011
The first ever Whole of Government Accounts are a 'big step forward' for public sector financial management despite being qualified by the National Audit Office last month, according to the Treasury's director of financial management and reporting.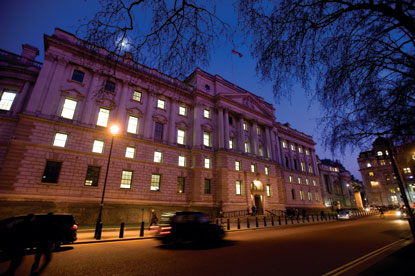 Ken Beeton told Public Finance that the auditors' qualification of the 2009/10 accounts was due to 'mainly transitional' factors and were 'things that will be removed as time goes by'.
Among the reasons for the qualification made by the head of the NAO, Amyas Morse, was the exclusion of some government-owned bodies, such as Network Rail and publicly owned banks, from the accounts.
He also qualified the WGA on the basis of the central government accounts being prepared according to International Financial Reporting Standards, while local government reporting was based on UK Generally Accepted Accounting Practice.
Beeton said this was already being addressed. 'In 2010/11 that qualification will disappear and others will also become less material as we improve and develop it.'
Speaking at a CIPFA conference on central government finance, he said the accounts needed to be produced faster, but said they had 'enormous potential to do good'.
'These accounts do have the potential to be the permanent basis on which government manages itself and its balance sheet,' he said. 'This is a big step forward in terms of how the government does its business.'
Beeton also highlighted the potential of the government's Finance Transformation Programme to improve financial management in the public sector by making 'finance integral to decision making'.

The programme involves departments being measured against tests such as the professionalism of their financial processes and how much finance is a part of ministers' and senior civil servants' planning.
Richard Douglas, head of the government finance profession, told PF that the FTP was about more than just saving money. 'It's about getting best value for money for taxpayers and about getting quality services.'
Government departments are currently measuring their progress against the FTP goals, he explained.

Speaking at the conference, he said: 'We'll aim over the next two or three months to have a picture of what's happening in government departments and what they think their progress is towards those goals.'
'We'll then think about what we can do and what departments can do themselves – we want something that's very much owned by the departments themselves.'
Douglas said that the programme's success would be measured against how it delivers the government's deficit reduction aims in as 'pain-free' a way as possible for individual ministers.
'Success won't be ticking a box on a grid. The measure of success will be that we have helped to deliver a deficit reduction package but have also met ministers' demands.'