By Mark Smulian | 9 September 2011
Business leaders have called for a programme of toll road building as part of efforts to renew the UK's crumbling infrastructure.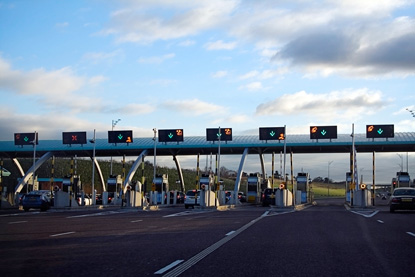 The CBI says the country has 'massively under-invested in infrastructure and needs a long-term plan for sustained investment'.
World Economic Forum members last year rated the UK's infrastructure worse than that of Tunisia and Cyprus, CBI director-general John Cridland pointed out.
Cridland said private firms had money available to supplement the public sector's dwindling ability to invest, but would want the government to publish clear investment plans before they would have the confidence to do so.
The CBI report Making the Right Connections, published today, found that 43% of the 477 firms surveyed thought the government's policies would have a positive impact on infrastructure investment and 33% a negative one.
Roads were the main concern, with 65% saying local highways had deteriorated in the past five years.
Cridland said: 'There has been endless debate on road tolling, and new major roads should be tolled.'
Such roads would be paid for by toll charges rather than through conventional Private Finance Initiative deals. Rail and other infrastructure might also be financed through tolls on use, he said.
The PFI has been criticised in two parliamentary reports in the past month, by the Treasury Select Committee and the Public Accounts Committee.
Cridland said: 'We take on board some criticisms of the PFI, and clearly some projects have delivered value for the taxpayers and from some there are lessons to be learnt.
'Whether you use the PFI or not there is a need to leverage in private investment into infrastructure.'
He said that even though infrastructure investment had been relatively protected from public spending cuts, spending on it was now worth only some 1.25% of gross domestic product.
This should return to the 2.25% seen before the recession, he said, which required attracting more private money by producing a clear plan for approved short and medium-term projects.
Cridland said: 'Businesses' balance sheets are quite strong but there is a lack of confidence to put that into use.
'The softening of UK growth means investment in infrastructure is even more urgent. Infrastructure investment is a game changer.'