By Richard Johnstone
| 12 July 2011


Public service ombudsmen are to be given expanded roles as part of the government's public service reforms for England, Prime Minister David Cameron said yesterday.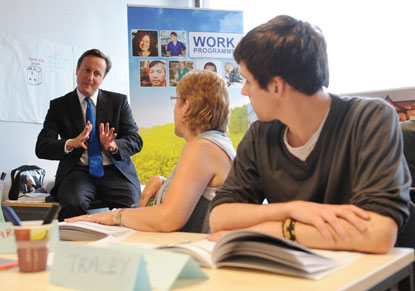 Launching the
Open public services
white paper
yesterday
, Cameron said that the government would ensure competition was '
the default in our public services' with ombudsmen charged to ensure choice.


In a speech at the Reform think‑tank, Cameron said: '[This] means that instead of having to justify why it makes sense to introduce competition, as we are now doing with schools and in the NHS, the state will have to justify why it makes sense to run a monopoly.'
Companies and charities will be able to bid for services, with only the judiciary, policing and national security remaining wholly state run. 'Pretty much everywhere else we want to see diversity,' Cameron said.
He said that the three public service ombudsmen offices in England, which deal with complaints from the public, would be reformed.
The Parliamentary and Health Service Ombudsman, the Local Government Ombudsman and the Housing Ombudsman would be tasked with 'supporting the ability of individuals to exercise choice in specific services'.
They will be given powers to look at whether a failure to provide choice will 'constitute a form of maladministration'.
The government now plans to review whether all public services are appropriately covered by ombudsmen, and whether they need greater resources and powers of enforcement for the new role.
The government would also be introducing more payment‑by‑results‑style contracts following the reforms.
The largest is currently operated by the Department for Work and Pensions as part of the Work Programme to get unemployed people back to work. Cameron said this would be extended.
'If providers have good ideas to get people off alcohol or drugs, we'll say great, come on in, but you're paid according to the outcomes you achieve. Show us the results and we'll show you the money.'
Trades Union Congress general secretary Brendan Barber said that Cameron had announced 'nothing less than a manifesto to break up our public services'.
He added: 'When the Prime Minister talks of charities and voluntary groups, he means parceling up public services for private companies.
'When he talks of ending top-down control, he really means introducing a postcode lottery with few winning tickets, and when he talks of fairness he means new opportunities for the sharp-elbowed middle classes to push others aside.'
The umbrella group for co-operatives, Co-operatives UK, welcomed the plans as 'an important opportunity for co-operatives and mutuals to bid for and deliver public services'.
However, secretary generalEd Mayo warned: 'There is a gap between national policy and local practice, with a lack of understanding of the benefits of co-operatives delivering public services amongst local authority councillors and officers'.
The Local Government Association urged the government 'not to hold back' on reforms, with 'no department above the need to break up the centralised power they have held over local areas'.