By Richard Johnstone | 22 July 2011
A government fund has been launched to give coastal communities a share of the money earned from renewable energy activities in UK seas.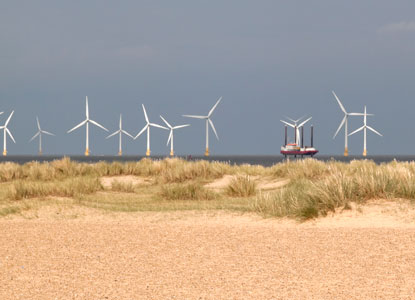 The Coastal Communities Fund will distribute 50% of the revenues from the Crown Estate's marine activities to community development projects supporting charities, the environment, education and health.
The fund should have around £23.7m to distribute from April next year, based on the Crown Estate's revenues for 2010/11. The grants will be available across the UK but linked to the money raised in five areas. These are: England, Wales, Northern Ireland, the Highlands & Islands and the rest of Scotland.
However, the Scottish Government, which has called for the Crown Estate to be devolved, described the fund as 'paltry'.
The Crown Estate receives income from renewable energy developments through its ownership of the UK foreshore. These increased by 1.7% in 2010/11, and are expected to rise further as the UK invests more in offshore renewables such as wind turbines and wave power.
Chancellor George Osborne said: 'This new funding shows that the government is committed to supporting coastal communities and ensuring that they benefit from the revenue that our coasts and the Crown Estate produce.
'I know that coastal communities play a vital role in the wellbeing of the whole country and I am glad that we can provide support for them through this new fund and ensure that they continue to benefit the whole of the UK.'
Speaking from Stornoway, Chief Secretary to the Treasury Danny Alexander added: 'Coastal communities share a strong sense of place and it is only fair that we share the Crown Estate's revenues equally. We welcome innovative bids from charities, businesses, social enterprises and local organisations, which support the economic development of the community.'
The projected increase in the revenues was one of the reasons why the Scottish Government has made devolution of the Crown Estate one of its demands. First Minister Alex Salmond has said that the government would establish a 'Fund for Future Generations', enabling a share of the 'substantial' future revenues to be invested in public services.
Responding to the announcement, Scottish Finance Secretary John Swinney said: 'We welcome the fact that Scotland's coastal communities will now benefit from their own resources, but it is only because of pressure from the Scottish Government that Westminster is taking any action on this issue, and this paltry announcement does not go nearly far enough.
'This is Scotland's money, and devolving full responsibility for the Crown Estate and its revenues to the Scottish Parliament is vital if Scotland is to make the most of our vast offshore renewable energy potential.'
Labour welcomed the move. Shadow Scotland Office minister Tom Greatrex said that: 'It is only fair that coastal communities benefit from developments off their shores', adding: 'The last thing communities want is money going to Holyrood without any guarantee of it going to affected communities.'