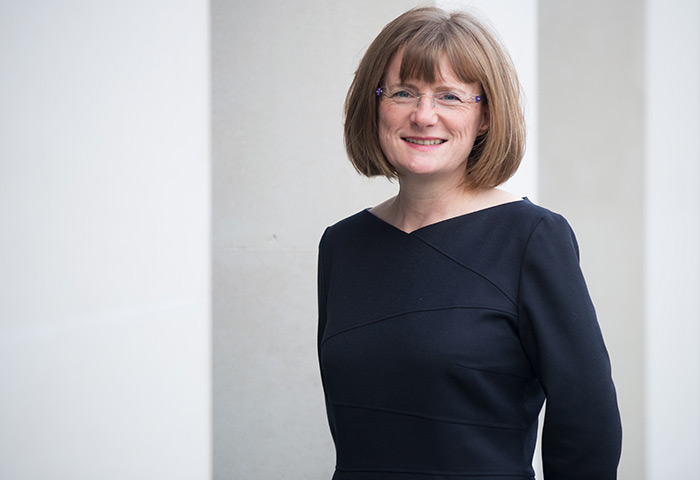 "Are you a mood hoover or a mood lifter?" muses Sarah Howard. She is, she says decidedly, definitely the latter.
"I'm from Yorkshire, so I'm a glass-half-full sort of person," she tells PF with a smile.
Howard, who takes over the CIPFA presidency at conference, brims with infectious energy, enthusiasm and optimism – traits she hopes to bring to the role.
This year brings a dual challenge for her. Not only will she be taking on the mantle of institute president but she also has a new day job as a member of Grant Thornton's strategic leadership team.
This role, which comes after years of successfully leading the firm's public audit team, is, Howard explains, a "natural culmination of where public services has been in our firm".
And links with CIPFA are strong: Grant Thornton is the biggest employer of CIPFA accountants in the UK. Joining the firm's top table signals just how important public services is to the business, she says.
"Public services are really central to our purpose [of] shaping a vibrant economy. How do we build trust? How do we help dynamic businesses to grow? And how do we help create places where people, communities and business thrive? Public services are central to that."
Howard is not the first auditor to hold the CIPFA presidency, but she is, she thinks, the first to come from the corporate world, something she hopes will bring value and some fresh insight.
---
"Given that I am the first person in the [president's] role with that perspective, that's something I can use to good effect in terms of collaboration, and the whole question of public audit and the future of public audit."
---
Howard has strong ties with CIPFA. Pontefract-born, she served as chair of the Yorkshire and Humber region, has been elected onto CIPFA council and talks happily of her time volunteering as an examiner not long after she qualified. "We'd get a bundle of papers in the post and spend a weekend in a hotel in Grasmere. The examining was hard work before we got there, but we'd work hard and play hard. The people I connected with through volunteering are really important to me now; I made some really good friends. It's just a great way to build that network."
Like her predecessor, Andy Burns, Howard is an economics graduate from the University of Leicester (they even shared tutors), and it was a passion for public services that drew her to CIPFA.
"I trained with the Audit Commission, and what really attracted me was the value for money stuff, working with different public services," she says.
The commission then, she recalls, was "in its heyday". She still has the note – handwritten in brown ink – sent to her by controller Howard Davies to congratulate her on qualifying.
After 12 years with the Audit Commission, including four years at its Bristol headquarters, Howard moved to Robson Rhodes in 1998 and back to the North of England. After years living in West Yorkshire, she moved to Northumberland a couple of years ago, close to the coast, where she shares a Victorian house with husband Simon and cat Cattypuss.
Howard became a partner with Robson Rhodes in 2001, which subsequently merged with Grant Thornton. She took charge of the public sector audit practice, taking on local audit contracts as the Audit Commission was broken up and wound down.
"We've successively grown our practice," she says – it now has around 40% of the local government and health audit market.
"I guess that's my biggest achievement. Leading the team through those successive tenders and growing the business."
The shift from the public to the private sector was an easy one for Howard. She found that her new colleagues, like herself, were motivated by their interest in public services and strong sense of purpose.
Being outside individual public sector organisations and looking in gives her a "really privileged" vantage point, she says.
"You get to see things from a slightly different perspective and you get to meet so many different people.
"We work with lots of different clients and get to see the differences and the similarities. I find it the best of all worlds."
As CIPFA president for 2018-19, Howard hopes to use her insight gained in the corporate world to focus on better collaboration between different parts of the public sector, but also the private and third sectors. Reflecting on the context she finds herself in, she says: "It's dramatically different to what I experienced even 20 years ago," highlighting the huge disruption to technology, politics and the environment as well as a dizzying pace of change.
The solutions that were successful in solving the problems of the past won't work in the future, and a different, more collaborative, leadership model and mindset is needed, she argues.
"You see such silo thinking… CIPFA is really well placed to lead this discussion as we do touch all parts of the public sector. There's also a role for the regions in terms of convenors of their place.
"If we're going to focus on prevention and shift resources there, then we're not going to do that with a top-down model. It has to be bottom-up and collaborative. How can CIPFA convene that locally? And it does have to be local."
A second theme for Howard's presidency is addressing the widespread breakdown of trust in government, public services and the business world.
The 2016 Brexit vote, she suggests, reflected that loss of trust. "People felt 'No one listens to us and we're not important and we don't trust the government'."
More recently, she ventures, the Grenfell tragedy and Carillion collapse have only served to intensify these perceptions.
CIPFA, therefore, has a "massive opportunity" to play a leading role in addressing this problem.
---
"As an institute, we are very values-driven. I think we instinctively act in the public interest rather than self-interest … that does resonate with people."
---
She argues that the time may have come to think about accounts simplification "What role does a 150-page set of local government accounts play in building trust?
"Why are we doing that? For what purpose and benefit? How does that engage our stakeholders? I think we do need a fundamental debate about that."
This leads on to the related question of public audit and how auditors should best spend their time. Is compliance with accounting standards the best focus of attention? "Is that where the real risk is?" asks Howard. "Is that where we should be spending our time?
---
"There's an appetite to shift the focus back to work on value for money, financial standing, financial sustainability, work that looks at the longer term. That's a debate that hopefully CIPFA could host, but you'd need the Financial Reporting Council, local government, the National Audit Office, Public Sector Audit Appointments and the firms at the table."
---
Howard also wants to spend some of her presidency thinking about how to inspire future generations, particularly in the context of changing working patterns, longer working lives and the impact of technology in the workplace.
If longer working lives are going to become the norm, it's important that people choose careers they are passionate about, she contends. Public services should be a natural fit for the socially conscious younger generation.
"If the generation that is coming after is more interested in social value and social good and making a difference and sustainability, that plays to our natural strengths," Howard says.
"You'd think we, as CIPFA, would be uniquely placed to address this. We have to sell public services, we need to work on our brand and promote it."
Outside work, Howard is an enthusiastic art lover. She's a particular devotee of Victorian art and architecture, especially the Pre-Raphaelites and the Arts & Crafts movement, spearheaded by William Morris.
"If I want to lift my mood, I just have to go and look at some Pre-Raphaelite painting and I'm transported to a different place … I love Victorian architecture too. I feel privileged every time I go into Manchester town hall ... I can top up my tank with physical architecture and paintings."
Topping up the tank is an appropriate metaphor, as Howard's other great enthusiasm is classic cars. She and her husband own a 1968 Aston Martin DB6, and regularly attend shows in romantic locales like Monaco and Le Mans. "I'm a member of two clubs: CIPFA and the Aston Martin Owners Club."
Howard admits that she leaves the maintenance and restoration of the car to her husband – "I do occasionally get a bit of polish out" – but the interest has allowed the couple to create "some of our happiest memories" as well as some good friends.
"Like CIPFA, it's not the car or membership that's important – it's what you do with it – the people you meet, the friendships you make and the fun you have."
Sarah Howard will be opening the CIPFA conference in Bournemouth on 11 July.