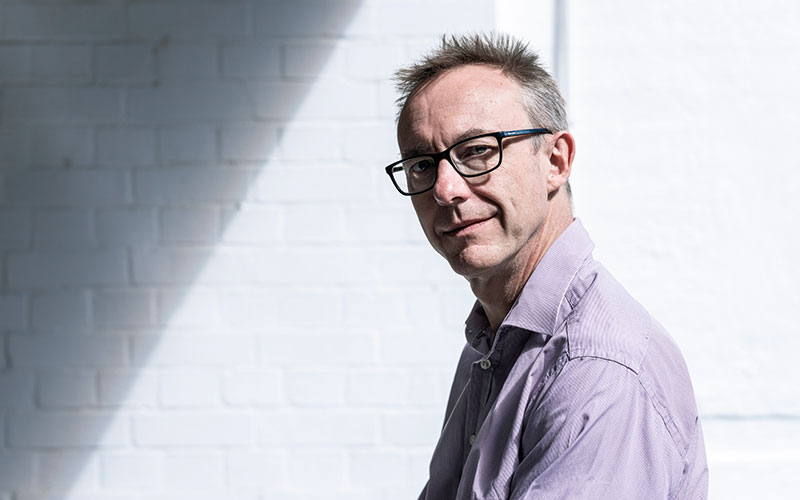 For many of us, our optimistic lockdown plans to finally tackle War and Peace or learn Portuguese remain unachieved. In some cases, this is owing to the hard realities of home schooling. In others, the lure of Netflix and sheer laziness have got in the way. For Paul Johnson, it is because he has been too busy. "I did think when I went into lockdown that it would be an opportunity do some reading or something new, but I have probably been working longer hours than ever," he says.
Since the beginning of March, the Institute for Fiscal Studies has produced around 60 pieces of work dealing with the economic impact of the crisis – an output the organisation's director describes as "extraordinary". Johnson marks 10 years in post at the beginning of next year, and the IFS's home-produced output in recent months lacks none of the bite that made the organisation's reputation. One recent paper highlighted the fact that £10bn of UK chancellor Rishi Sunak's 'Plan for Jobs' will be funded by underspends on previously proposed projects.
Despite IFS's seamless move to remote working, however, Johnson would rather be back in the
office. "I don't like it very much at all," he says of the current situation. "I am missing the social interaction, not being able to walk around the office and talk to people. We are definitely missing being able to run things through informally in person, learning from each other, spotting errors, having ideas and all those kinds of things. I would say if this went on for another year I would be really quite concerned about the impact on what we're doing."
Johnson's discomfort illuminates a sometimes overlooked fact. The organisational questions posed by remote working extend far beyond private sector organisations and affect all public sector bodies, charities and independent institutions. This month, a new batch of graduates is set to start at the IFS. "How we engage them when socially distanced, and maintain the training and culture and the identity of the organisation in the long run is going to be a challenge," he says.
The former government economist questions how long society can keep running in a remote world of work. "I think [at the start of lockdown] there was a bit of a false sort of positivity about working from home. Yes, you can make it work for four months. Maybe you can make it work for nine months, but can you make it work for 18 months without losing a lot? I am pretty sceptical, I have to say."
The duration of social distancing measures – and their effect on the economy – will play a key part in how much pain we suffer as a result of Covid-19. In June, an IFS briefing note mapped out the potential impact of three scenarios for economic growth – optimistic, pessimistic and central. The central scenario assumed that a fiscal tightening of £36bn would be needed, posing tough questions for policymakers over the balance between service cuts and tax rises.
However, the optimistic scenario is based on output falling by 9.5% this year, and rebounding by 8.6% in 2021. Under this outlook, keeping the debt burden stable would only require a fiscal tightening of 0.5% of national income (£11bn). "In a sense," Johnson says, "we might look back on this period as a bit of a bad dream and pretty much get on with things as before, but with more debt overhang, and therefore a bit more worry about what will happen next time we have a pandemic and we need to borrow again. But that's kind of manageable."
Under the other two scenarios, however, the government will continue to run deficits, adding an unsustainable burden to the amount owed by the UK government. "If we get to that stage, we are going to have to do something about it, because the national debt can't continue to grow forever," Johnson says. "And that's the point where you need to start talking about tax rises or spending cuts. But the key thing is that we are not there yet. Nobody is going to think about doing that this year."
Johnson says low interest rates and quantitative easing by the Bank of England mean the large amount of debt the government is racking up "doesn't feel problematic" at the moment. However, Treasury cannot afford to take its eye off the ball, he says. "If investors buying government debt start looking at the UK and thinking 'There's Brexit, a not very competent government, maybe the union's going to break up' and so on, you could imagine a world where it becomes more difficult to sell UK debt than the debt of some other countries. There are quite a lot of risks around that are UK-specific."
---
"Labour increased National Insurance contributions back in 2002, without any kind of backlash. So there are ways of [raising taxes] politically, and, particularly after something like Covid-19, it might be even more possible to do it"
---
It is possible that any hard choices resulting from a less-than-optimal recovery could be delayed until after the next general election, Johnson says. If and when we do get to that stage, any government looking to pay down the Covid-19 debt pile is more likely to opt for tax rises than another round of austerity, he believes. "Both because public services have been cut a lot already," he says, "and because the political mood is fairly clearly for more money for health, social care, local government and public services more generally."
However, the idea that any tax rises can be done without touching the main rates of VAT, income tax or national insurance is for the birds, Johnson says. "It slightly worries me that there are, as ever in situations like this, ideas going round that this can be done easily – for instance, through a wealth tax, or just by targeting multinationals. The idea we can make 'someone else' pay is completely implausible."
Johnson believes some estimates of the political risk surrounding general tax hikes are exaggerated. He says: "Such rises are not generally popular, although it is worth saying that the coalition government increased VAT in 2011, from 17.5% to 20%, without any backlash. Labour increased National Insurance contributions back in 2002, without any kind of backlash. So there are ways of doing this politically, and, particularly after something like Covid-19, it might be even more possible to do it."
On the near horizon, the government's forthcoming Budget and Spending Review are both expected to continue the 'levelling-up' agenda set by the March Budget. Another recent IFS report challenged conventional wisdom on regional disparities, highlighting figures showing a fall in geographical inequalities in earnings and income since the early 2000s. "Particularly once you take out housing costs, the difference between regions is actually down to the number of rich people living there," Johnson says. "Median incomes are not that different across the country – within-region inequality is more important in many ways, so you need to be focusing on the right thing here."
Ever-tuned to the realities of politics, Johnson says that even Covid-19 might not be enough to crack the problem of social-care funding, unsolved for more than a decade. "It seems like the government has no option other than to do something about it, and they are saying they want to. But how different could it look in two years' time if we start coming out of this? The government has kicked the can down the road for years and, from a purely cynical political point of view, there is no reason why reform shouldn't be delayed again."
Government capacity is an equally high barrier to major reform in this and other areas of tax policy, Johnson says. Covid-19 has exacerbated the High Street decline sparked by out-of-town and online shopping. An interim report on the government's latest review of business rates is to be released alongside the Budget and Spending Review. "Changes are possible, but government is so focused on Covid-19 and Brexit that whether there is scope for really significant change anywhere else at the same time has to be in serious doubt."
The IFS will have its own hands full analysing the impact of the transition phase marking the UK's final departure from the EU. January will provide clarity, Johnson says. "There is almost more uncertainty about the first month than about the first five years of what happens next, because we don't quite know how our systems will react and exactly how much chaos – or not – there might be."
---
"I would say if [homeworking] went on for another year, I would be really quite concerned about the impact on what we're doing"
---
The nature of the Brexit process means that assessing its impact on economic performance is more challenging for economists than more specific and targeted measures, Johnson says. "We will likely see some business closures and some shedding of jobs - not on 1 January, but over a period of time. There will also be a gradual period of incomes rising less quickly. This will annoy people over time, but it is very different from a tax increase. You can't pin it on government in quite the same way."
Brexit is generally accepted as part of a sea change in democratic societies, summed up neatly by Michael Gove's declaration during the 2016 referendum campaign that "people in this country have had enough of experts". Johnson definitely qualifies as an expert, but is sanguine about the new political climate. "You could almost certainly argue that some issues were overly neglected for a long period in the political space. And perhaps there is almost too much focus in Westminster on the sorts of purely economic ideas that we and others talk about. I think it's perfectly reasonable and healthy to have things that matter which go well beyond the economics and to have more space for that in public debates."
However, Johnson voices frustration at the tendency towards "cake-ism" espoused by some (he is too polite to mention his prime ministerial namesake). "I completely understand why you might want to have an independent Scotland, or, indeed, why you might want the UK to leave the EU. You just need to be clear there's a trade-off. There's a cost, which is that, economically, we will be less well-off than we otherwise would have been. That seems to me to be the honest debate to have, rather than both sides claiming you can have it all."
Amid the current turbulence, Johnson looks back at his 10 years at the helm with satisfaction. "When I took over, the IFS was already an impressive, well respected organisation, but I think it is even more so now. It has got a fantastic senior team. People work really well together, producing some fantastic work, which is really impactful." Their role might look somewhat different than 10 years ago, but the experts are not about to disappear any time soon.
---
CV- Paul Johnson
Employment
2011 onwards Director, Institute for Fiscal Studies
2007-2010 Senior associate, Frontier Economics
2004- 2007 Director, public services and growth directorate, HM Treasury
2000-2004 Chief economist, Department for Education and Skills
1998-2000 Head of economics of financial regulation, Financial Services Authority
1988-1998 Various roles, Institute for Fiscal Studies, deputy director 1996-98
Education
1990-92 MSc in economics, Birkbeck College, University of London
1985-88 BA (first-class) in philosophy, politics and economics, Keble College, Oxford
---
Photography | Peter Searle