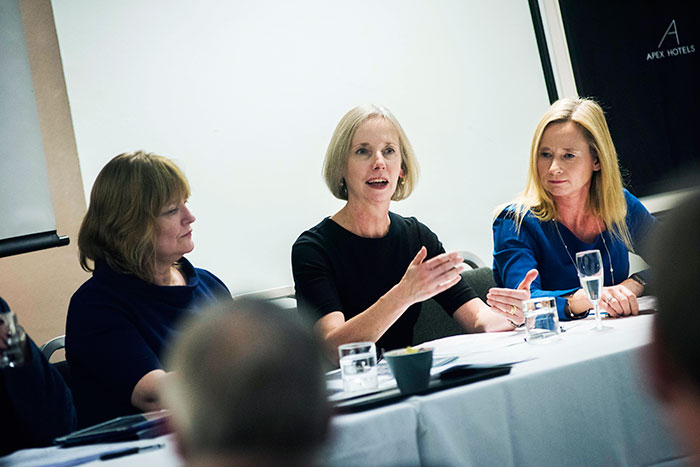 Concern over the sustainability of health services north of the border dominated a debate over the resilience of Scotland's public sector.
Senior public sector finance figures who gathered in Edinburgh for CIPFA Scotland's annual Public Finance Debate and Dinner heard that the health sector, three years into an ambitious programme of integration with social care services, continues to buckle under the strain of increased demand.
A recent report from Caroline Gardner, auditor general for Scotland and a panellist in the debate, concluded that the NHS in Scotland was not financially sustainable in its current form.
"More boards are struggling to break even, relying on brokerage from the Scottish Government, struggling to make the savings they had planned for and relying on non-recurring savings, so they're back to square one at the beginning of the year," Gardner told attendees at the 8 November event, which was chaired by former Glasgow City Council finance director Lynn Brown and sponsored by UBS Asset Management.
There had been intense media interest in the Scottish Government's decision to write off around £150m in brokerage owed by health boards, but none of the boards had planned to repay the debt, she pointed out.
The medium-term financial strategy published by the Scottish Government was a "step in the right direction", Gardner said, but did not address underlying challenges in the sector.
Similarly, although Scotland should be proud of having pioneered initiatives such as minimum alcohol pricing and a ban on smoking in public places, she warned that unless action was taken to tackle the inequality that lay behind Scotland's health challenges, these would be "short-term fixes".
"In Scotland, we are taking control of revenue-raising for the first time, and that gives us a real opportunity to think about how to get into a virtuous spiral," said Gardner.
The bleak assessment of the health sector in Scotland was shared by fellow panel member Tracey Logan, chief executive of Scottish Borders Council, who made the case for an overhaul in the way health and social care integration was delivered and funded to ensure sustainability.
"There is a huge amount of patching and plastering happening at the moment," she said. "As long as we are funding social care separately from health, we will never make real progress, as the barriers between the two organisations will continue to exist."
There were also difficulties in recruiting to senior NHS posts as the challenges in these roles were seen as "insurmountable", and the salaries relatively meagre, compared with those in other sectors.
---
"In Scotland, we are taking control of revenue-raising for the first time, and that gives us a real opportunity"

Caroline Gardner, auditor general for Scotland
---
Joyce White, chief executive of West Dunbartonshire Council, raised the threat created by Brexit for workforce planning and the cost of pharmaceutical products.
"Collectively, we all have to address this huge health and wellbeing challenge we have as a nation," she said. "There needs to be a change in policy, and, in some cases, procedures as well, so we have more people taking more responsibility for their own health and wellbeing."
Angela Mitchell, lead partner for the Scottish public sector at Deloitte, said that the government's financial strategy provided an opportunity to take a longer term view of the service transformation needed within health and social care.
"The worry is that the budget…continues to get pushed into delivering more of the same service, coping with the continuing increase in demand, and that's just not sustainable," she said.
The critical question was how much of the existing budget would be spent on innovation, which, she said, did exist within the NHS, but only in pockets. The Scottish public sector as a whole was now at a tipping point, according to Mitchell.
"I am hugely optimistic about [its ability] in the next few years to embrace changing models, adopt technology, and become much more flexible," she said.
A whole systems approach was needed, with senior managers becoming more open, ready to work beyond organisational boundaries and willing to take risks.
Shared services were an important part of the jigsaw, but these were still not being properly delivered across the Scottish public sector, she said.
There are, of course, some examples of progress in this area: White cited a recent shared service appointment between West Dunbartonshire and nearby Inverclyde. However, she shared the frustration of many residents that council services could still not be accessed in the same way as, say, personal banking over a smartphone.
"It's our responsibility to make public services fit for purpose," she said.
Key to that was clarity over what exactly should be delivered nationally, regionally and locally, with the private sector having an important role to play.
---
"We need simplicity and clarity, and flexible models we can adopt across the country"

Tracey Logan, chief executive, Scottish Borders Council
---
Gardner suggested that the proliferation of public bodies in Scotland added to the complexity of the landscape, while Logan highlighted the "incredible" amount of duplication that existed between different parts of the public sector. "We need simplicity and clarity, and flexible models we can adopt across the country," she said.
The debate turned to the lessons that cash-strapped Scottish councils could learn from the plight of Northamptonshire County Council in England. Gardner said the case served as a reminder to heed early indications of financial distress.
"The warning signs were there," she said. "The auditors were blowing the whistle, but no one was paying attention."
However, White suggested that the level of scrutiny in Scotland was greater than in England, which provided a degree of confidence. "I feel reassured as a chief executive in Scotland that I have scrutiny bodies around me… which would give me some early warning signs."
Chief executives, as well as taking a helicopter view, had to be able to "nosedive" deeply into potential issues within their organisations – even if doing so might make them unpopular, she said.
"Strong leadership, good financial planning and robust scrutiny take you a long way on the journey," she said.
Finally, asked about the case for new powers for public bodies, all four panellists agreed that this was not a priority.
"Public bodies are not lacking powers - they lack the incentive to join up and the political cover to take measured risks," said Mitchell. Logan agreed that a change of attitude would reap more dividends than an expansion in statutory powers.
The debate concluded on an optimistic note. In a vote, more than 75% of attendees expressed confidence in the Scottish public sector, with 27 believing it was sustainable and only eight saying it wasn't.