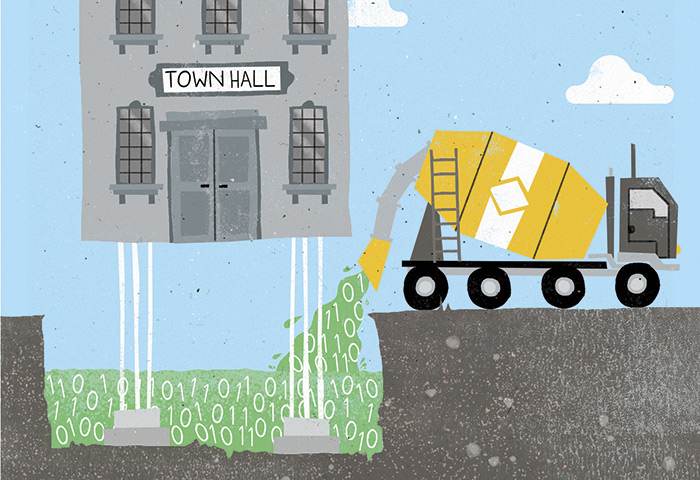 Digital change is not easy. If it were, there wouldn't be so many consultants offering help; neither would there be so many digital projects that struggle to fulfil their over-developed ambitions.
Part of the problem lies in the language used and in our understanding of what digital change means. For some public service organisations, digital seems to mean transforming and improving IT delivery – new and innovative technology, more automation, self-service, faster and cheaper IT deployment.
This is understandable, given the legacy of IT constraints often faced by the public sector, such as out-of-date systems, inflexible and costly outsourcing contracts, policies designed for a previous era, non-agile methods and severe shortfalls in both capacity and skills.
But digital should mean much more than new and better technology solutions. If we were to design a local council from scratch, exploiting the potential of new technology and digital working to the full, what would it look like?
We only need to look at some of the newest digital start-ups to find a very different model of operation that is light on bureaucracy and governance, empowers employees, and is in touch with technology risks.
Newer technologies, such as the cloud, are predominantly used, but there is a wholly different approach to governance, culture, practice, policies and risk appetite.
Digital is more than just a website, a Facebook profile, or giving employees iPads. It fundamentally changes the way that services are designed and delivered and how they operate, both internally and externally.
Digital operation means changes to roles, structures, governance, service functions, processes, risk models, policies, style and cultures.
In fact, the aim is less about changing the IT than about changing everything else. This starts with a vision of what digital will mean for users, regardless of whether they are customers, citizens, politicians, employees, suppliers or partners.
This is easier for a start-up than it is for a complex and more traditional organisation, such as a local council, health authority or government department, where interactions between related services, data linkages and deeply embedded practices that may date back a generation make the shift hard.
But when you couple such factors with a low appetite for risk in the face of public and press scrutiny, internal politics and severely constrained resources, the challenge is unprecedented.
However, it's not impossible to solve if the right steps are taken in the preparation and implementation of a digital programme.
In particular, the leadership of financial professionals is essential for risk modelling, resource allocation, business-case development, prioritisation and corporate alignment.
Here are eight tips on how to prepare for a successful digital programme.
1) Align with corporate strategy
Define exactly what digital means in your organisation, integrate it into corporate planning, and avoid merely 'bolting it on'.
2) Create digital foundations
Put digital architectures, principles and prioritised programmes in place before starting, ensure that you have effective leadership and communication, and encourage directors to take on roles that are cross-cutting.
3) Redefine your IT strategy
Prioritise digital outcomes and effective business cases, assess legacy constraints – and, above all, be brave when it comes to confronting outdated practices.
4) Draw up a digital plan
Agree a digital delivery plan that takes into account management structures and resource allocation, but make sure you tackle this as part of a broader, long-term vision.
5) Build a business case
Your traditional return on investment approach may need adapting to account for risk as part of a holistic perspective on savings and benefits – but don't be over ambitious.
6) Secure employee buy-in and boost communication
Honest, frequent and widespread communication is essential, and HR should prioritise setting up a network of 'digital champions' to spread the word and lead the way.
7) Shift culture and behaviours
The new digital culture needs to be understood, embedded and feature in governance and performance systems, with HR able to champion changing roles.
8) Restructure your operating model
Traditional hierarchies are not fit for purpose in a digital operating model, and a new structure of operation will need to be defined.
---
Top tips…
DO
Set out a vision
Take into account the traditionalism and complexity of your setup – and the resources you have
Lead from the top
DON'T
Shy away from changing outdated practices
Fall into a short-term, narrow mindset
Be afraid to restructure operating models
---