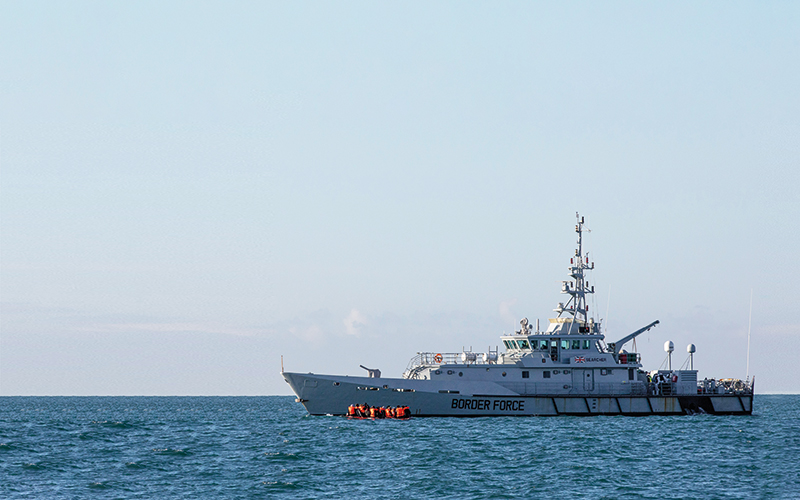 Few would argue with a Royal Navy warship, and a civil servant would be outranked as well as risking a diplomatic incident if they tried.
But that is the showdown facing the Home Office after its Whitehall neighbour curtly announced in August it would no longer be responsible for small boat crossings in the English Channel.
Primacy – naval-speak for budget and responsibility – will be handed back in January next year.
An MoD spokesman said: "We are working across government to ensure the conditions are set for defence to hand the task back to the Home Office."
It is just the latest sign that service providers, weary of carrying extra demand and facing budget pressures, are looking to reduce workloads.
At the outset of austerity, cost-shunting helped balance the books – not least in the NHS. But more than a decade on, there are signs that people have had enough.
Kirsty Stanners, CIPFA's head of policy and technical, said: "Public services have faced over a decade of budget constraint, with local government seeing the deepest funding cuts.
"Frontline services, particularly preventative services or initiatives, have been scaled back. As a result, failure demand, particularly in relation to mental health, is hitting other parts of the system, such as policing and health."
Bedfordshire's police and crime commissioner made headlines earlier this summer by revealing he intends to start billing East London NHS Foundation Trust, which provides mental health services county-wide, for officer time spent dealing with non-crime call-outs.
Suffolk PCC Tim Passmore names other providers – not least Norfolk and Suffolk NHS Foundation Trust, which is in special measures. "I am also very concerned about the service East of England Ambulance Service is providing," he adds. "And there is officer attendance at accident and emergency. We have had cases where it has taken up two shifts. Hospitals have security staff – that is their job. The Crown Prosecution Service has the courts backlog – our costs there are up 70%."
Councils are pushing back against both the Department for Education and the Department for Health & Social Care over secure children's homes. The Local Government Association wants to see national commissioning and for the NHS to step up for children with the most complex needs.
Not to miss out, the Home Office has signalled that it wants the technology industry to take over cyber security because of the mounting cost of dealing with online abuse.
How will it end?
Passmore said defining boundaries is the central issue: "Where do you draw the line between what is operational and what is in the public interest?
Most of what we do is in the shade of grey."
He wants other agencies to tackle their own problems with horizon scanning: "When children are excluded from school, they are more likely to be drawn into gangs. Who has the duty of care?"
Stanners says most of the problems stem from one issue: "We believe that a key tool to minimising this failure demand from all parts of the public sector is to secure sustainable funding for adult social care."
Passmore wants the entire funding settlement overhauled: "We keep hearing that it is going to be reviewed. We need to have a much greater urgency."
Image credit | Getty